Biden's failed economy: Here's what those inflation numbers really mean for consumers, businesses
A recent Economist/YouGov poll found that 52% believe the economy is getting worse
Inflation for the month of May came in at an annual rate of 4% and the White House immediately and misleadingly tweeted that "inflation has fallen by more than half." In reality, inflation is increasing, not falling. Only the rate at which it is increasing slowed — and not by nearly enough. 
Inflation is like compound interest; it just keeps adding up. While annual inflation grew at a 4% rate in May, that was on top of an annual rate of 8.6% last May. So, over the past two years, inflation has been up nearly 13%. The White House tweet absurdly claimed that "[t]his gives families real breathing room." It doesn't.  
Let's take a look at how the Biden administration's economic plans are actually working when it comes to taming inflation. Has it really "fallen"? This chart shows the cumulative impact of inflation during Biden's presidency as compared to the other presidents this century.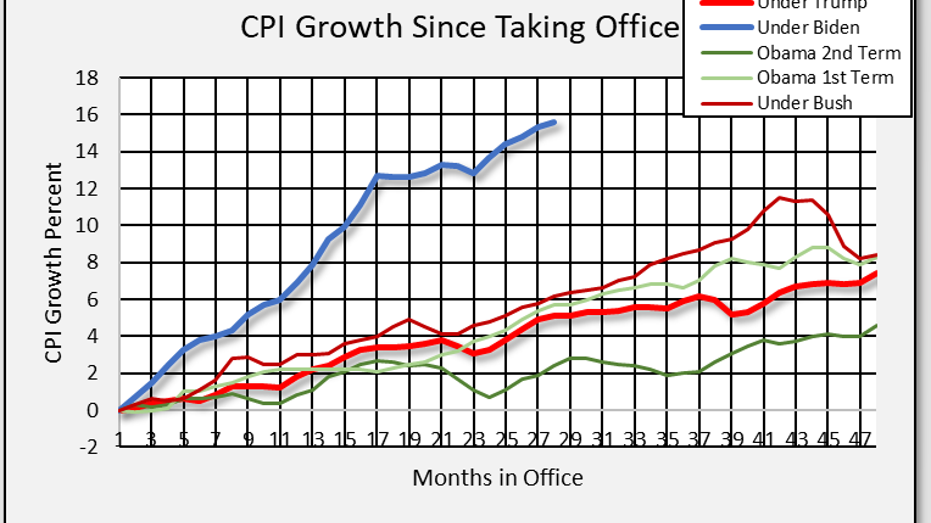 So, if the rate of inflation for the remainder of President Biden's term were flat — that is 0% — the cumulative impact of his massive government spending to date would still make him the inflation leader among presidents in this century. 
Nonetheless, Biden himself touted the 4% increase in the inflation rate as proof that his plan "to bring down the cost of living and sustain stable and steady growth is working." That also is simply untrue. Biden's economic policies had virtually nothing to do with the fact that the annual inflation rate slowed to 4% in May. On the contrary, Biden's policies have consistently exacerbated inflation. The inflation rate slowed because the Federal Reserve took drastic action to slow it. 
FED PAUSES RATE HIKES FOR FIRST TIME IN 15 MONTHS, BUT HINTS AT FUTURE INCREASES
The Fed has been increasing interest rates at a historic pace over the past 15 months, taking them from near zero when Biden took office to a 5%-5.25% range today. This surge in rates was necessary to tame the so-called "transitory" inflation Biden's massive government spending programs caused — beginning in March 2021 with the ironically named American Rescue Plan.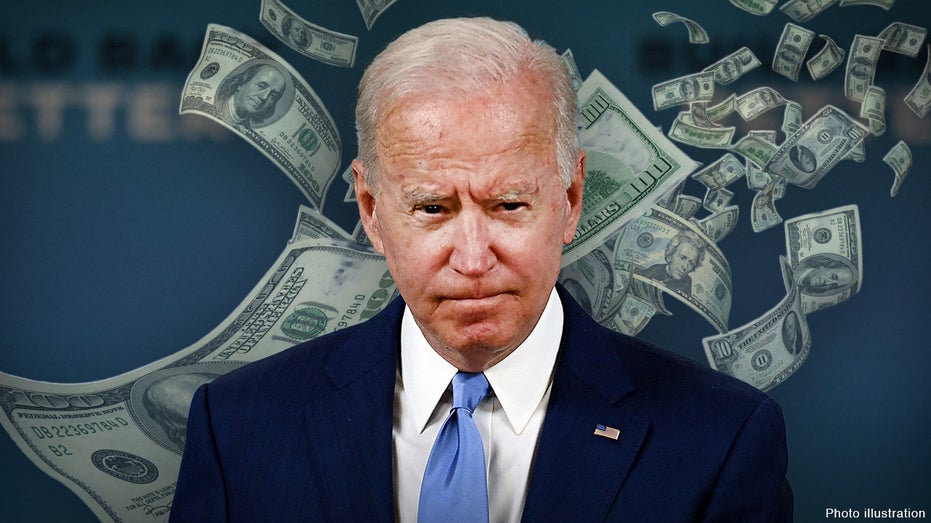 The Fed's pace of interest rate increases has been so impactful that it led to three of the four largest bank failures in our nation's history, undermining the integrity of our entire banking sector, putting our economy on the verge of collapse and necessitating federal intervention. 
It has sent the residential real estate market into a tailspin, reducing the value of working Americans' homes and making it difficult to buy a home even at reduced prices. It has driven business optimism collapsing to its lowest level in a decade as affording a loan to start or operate a business has also become costly and difficult. 
But, as planned, the Fed's interest rate surge (rather than Biden's so-called "plan") has slowed inflation's breakneck pace. Unfortunately, it hasn't slowed it nearly enough, and that's actually scary. At 4%, the inflation rate is certainly down from the 9.1% rate it hit last June, but it's still double the Fed's 2% target rate (a target the Fed the Fed affirmed in May). This means more Fed action will likely be necessary. 
CLICK HERE TO READ MORE ON FOX BUSINESS 
At its meeting Wednesday, the Fed paused its streak of 10 rate increases in a row. However, there were two caveats. First, it is likely to raise interest rates two more times this year. Second, it anticipates that rates will increase to a new target range of 5.5%-5.75%. 
That's a clear signal that the Fed remains concerned about inflation's staying power and that more economic pain is required to slow the economy and get price increases under control. The only thing in this scenario that Biden's economic plans deserve credit for is the economic pain we are experiencing and the pain those future increases will cause. 
GET FOX BUSINESS ON THE GO BY CLICKING HERE
Anyone who has been paying attention is certainly aware that you cannot take the Biden administration's statements on the economy at face value. And the American people are paying attention; they can't afford not to. 
A recent Economist/YouGov Economist/YouGov poll found that 52% of those polled believe the economy is getting worse — only 16% believe it's getting better — and  54% cited the price of goods and services they buy as the most relevant indicator of the economy's condition. 
Unfortunately, with an election year on the horizon, we can expect more gaslighting about the state of the economy and the effect of the Biden administration's so-called "plans." But, in reality, Biden's plans — chiefly the enormous deficit spending at a time when the economy was already recovering from the pandemic — have undermined the banking system, sent the real estate sector into a tailspin and cost American families thousands of dollars each year in higher prices for the things they need.  
That's not something you can spin your way out of. 
Author's note: Thanks to Jeff Chaney (@jchasney) for his able assistance and for the graph. 
Andy Puzder was chief executive officer of CKE Restaurants for more than 16 years, following a career as an attorney. He is currently a Senior Fellow at the Heritage Foundation, the Pepperdine University School of Public Policy and the America First Policy Institute. He was nominated by President Donald Trump to serve as U.S. Labor Secretary. In 2011, Puzder co-authored "Job Creation: How It Really Works and Why Government Doesn't Understand It." His latest book is "The Capitalist Comeback: The Trump Boom and the Left's Plot to Stop It" (Center Street, April 24, 2018).