UAW strike has already cost the US economy $1.6B
UAW strike against Ford, GM, Stellantis already hitting US economy
The United Auto Workers strike against the Big Three Detroit automakers is already hitting the U.S. economy.
The weeklong work stoppage has cost about $1.6 billion so far, according to a new analysis from the Anderson Economic Group, a Michigan-based think tank that specializes in the economic impact of labor strikes.
That figure includes company losses of $511 million, lost direct wages of $107 million and consumer and dealer losses of $470 million. It does not take into consideration strike pay, unemployment benefits, unemployment taxes or income taxes.
SEN. BERNIE SANDERS TORCHES AUTOMAKER CEOS AT UAW STRIKE RALLY: 'TIME TO END YOUR GREED'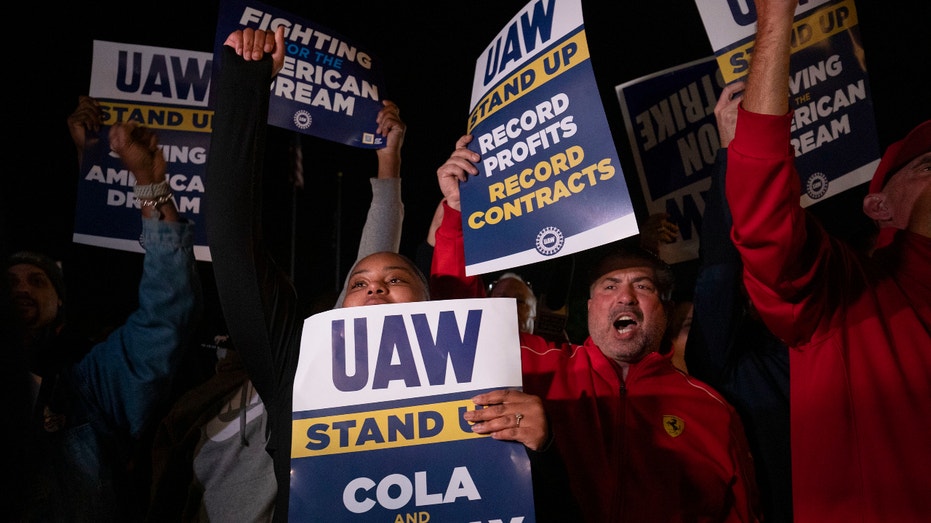 The longer the walkout lasts, the greater the risk it poses to the economy.
The strike was limited in scope for the first week as the UAW sought to preserve its $825 million strike fund, which would support a walkout for about 11 weeks by the 146,000 union members. But the union significantly expanded the walkout on Friday to include all parts distribution centers at General Motors and Stellantis, the maker of Jeep and Chrysler. 
The escalation excludes Ford, because UAW President Shawn Fain said the company has shown signs that it is "serious about reaching a deal." 
BIDEN ADMINISTRATION DISCUSSES EMERGENCY AID FOR SMALLER AUTO SUPPLIERS AMID UAW STRIKE THREAT
"At GM and Stellantis, it's a different story," Fain said. 
The strike marks the first time in the UAW's 88-year history that it walked out on Ford, GM and Stellantis simultaneously. 
The main point of contention between the two sides is higher pay, with the union seeking a more than 36% general pay raise for rank-and-file members over four years. That is down from the original demand for a 46% wage increase.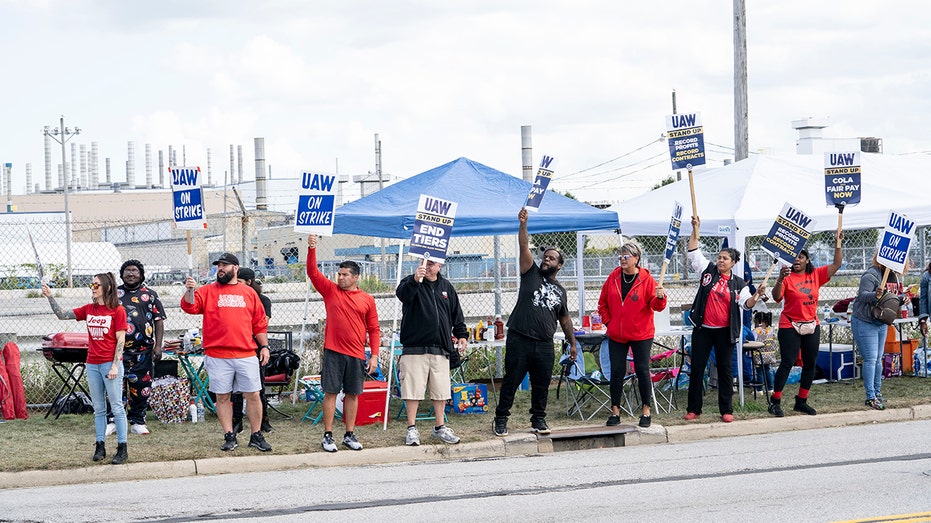 Full-time assembly plant workers at Ford and GM earn $32.32 an hour, while part-timers currently make about $17 an hour. Full-time employees at Stellantis earn $31.77 an hour, and part-time workers earn close to $16 an hour.
The union is also pushing for cost-of-living pay adjustments, an end to forced overtime, increases in pension benefits for current retirees and the restoration of pensions for new hires, among other benefits.
GET FOX BUSINESS ON THE GO BY CLICKING HERE
Fain has called the demands the "most audacious and ambitious list of proposals they've seen in decades."
"They could double our raises and not raise car prices and still make millions of dollars in profits," Fain said. "We're not the problem. Corporate greed is the problem."
Automakers — who have noted that they are facing a multibillion-dollar shift to electric vehicles — made a counteroffer that includes far more modest pay increases. GM, Ford and Stellantis all offered 20% wage hikes.