UAW strike spreads to more GM, Stellantis facilities, Ford spared amid progress in talks
The UAW's expansion of the strike brings the number of striking autoworkers to roughly 18,600 across the country
The United Auto Workers (UAW) union on Friday broadened its strike against General Motors and Stellantis citing a lack of progress in negotiations, although the union spared Ford from new strike activity after the two sides agreed on some provisions in their talks.
UAW President Shawn Fain said that union members will go on strike at all the parts distribution facilities for GM and Stellantis, the parent company of brands like Chrysler, Dodge, Jeep and Ram. The new strike activity covers 38 locations across 20 states in all nine of the UAW's regions and will affect approximately 5,600 union members, which brings the number of UAW workers on strike to roughly 18,600.
"Both GM and Stellantis have rejected our profit-sharing proposals and both companies have rejected our proposals to convert temps. So today at noon Eastern time, all of the parts distribution centers at General Motors and Stellantis are being called to stand up and strike," Fain said. The union is seeking pay raises amounting to 40% over a new four-year contract in addition to expanded benefits and other provisions, while the automakers' pay offers have been closer to 20% with an immediate 10% increase.
UAW STRIKE AGAINST DETROIT BIG THREE AUTOMAKERS COULD EXPAND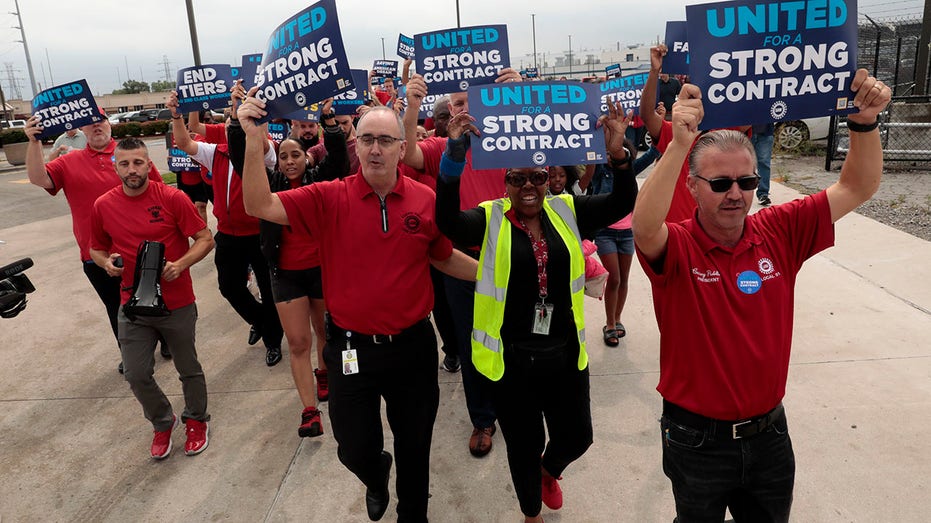 The UAW is running what it calls a "stand up strike" in which some of the union's locals are asked to go on strike incrementally as the union sees fit to ratchet up the leverage on the auto companies. The union's leaders believe that gives them flexibility in escalating the strike as needed up to a potential nationwide strike.
"Stellantis and GM in particular are going to need some serious pushing," Fain said. 
Ticker
Security
Last
Change
Change %
F
FORD MOTOR CO.
10.34
-0.06
-0.58%
GM
GENERAL MOTORS CO.
28.50
+0.32
+1.14%
STLA
STELLANTIS NV
20.42
-0.04
-0.20%
GM countered in a statement calling the UAW's escalation of the strike "unnecessary" and adding, "The decision to strike an additional 18 of our facilities, affecting more than 3,000 team members plus their families and communities, adds validity to the blueprint identified in last night's leaked texts — that the UAW leadership is manipulating the bargaining process for their own personal agendas."
"We have contingency plans for various scenarios and are prepared to do what is best for our business, our customers, and our dealers," GM's statement continued. "We have now presented five separate economic proposals that are historic, addressing areas that our team members have said matters most: wage increases and job security while allowing GM to succeed and thrive into the future. We will continue to bargain in good faith with the union to reach an agreement as quickly as possible."
LAYOFFS, WORK STOPPAGES MOUNT IN UAW STRIKE AGAINST BIG THREE
Stellantis said in a statement, "Following yesterday's publication of comments made by the UAW's Communications Director and the subsequent strike announcement, we question whether the union's leadership has ever had an interest in reaching an agreement in a timely manner. They seem more concerned about pursuing their own political agendas than negotiating in the best interests of our employees and the sustainability of our U.S. operations given the market's fierce competition."  
"The fact is, we made a very competitive offer yesterday that includes all our current full-time hourly employees earning between $80,000 and $96,000 a year by the end of the contract (a 21.4% compounded increase); a long-term solution for Belvidere; and, significant product allocation that allows for workforce stability through the end of the contract. And yet, we still have not received a response to that offer. We look forward to the UAW leadership's productive engagement so that we can bargain in good faith to reach an agreement that will protect the competitiveness of our Company and our ability to continue providing good jobs," the company added.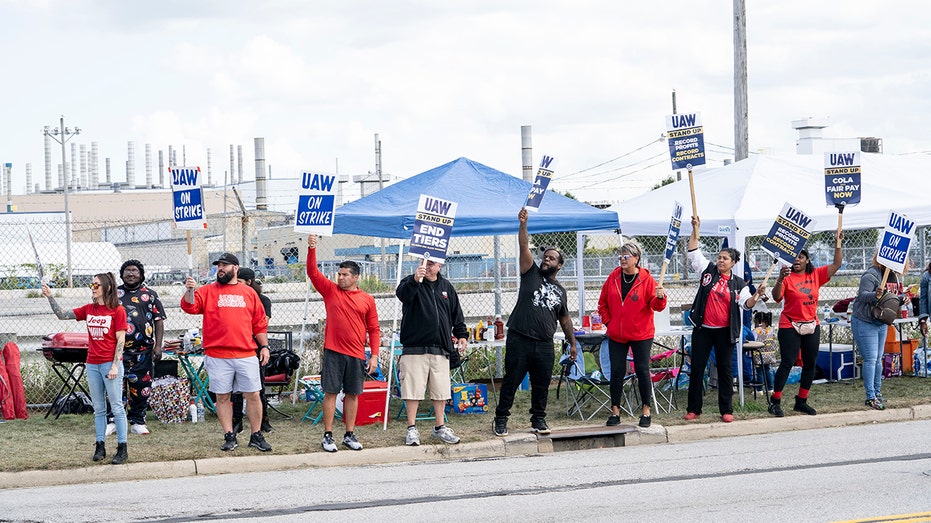 The UAW's broadened strike activity does not apply to any Ford facilities, as Fain cited "real progress" in negotiations with the company, but noted, "We have more work ahead of us before we can reach an agreement." Among the concessions he said the UAW has secured are the reinstatement of a cost-of-living allowance, conversion of all current temps, plus additional income security for workers in the event of a layoff that includes up to two years of healthcare.
"Ford is working diligently with the UAW to reach a deal that rewards our workforce and enables Ford to invest in a vibrant and growing future," Ford said in a statement. "Although we are making progress in some areas, we still have significant gaps to close on the key economic issues. In the end, the issues are interconnected and must work within an overall agreement that supports our mutual success."
TESLA COULD BE A WINNER IN THE UAW STRIKE AGAINST DETROIT'S BIG THREE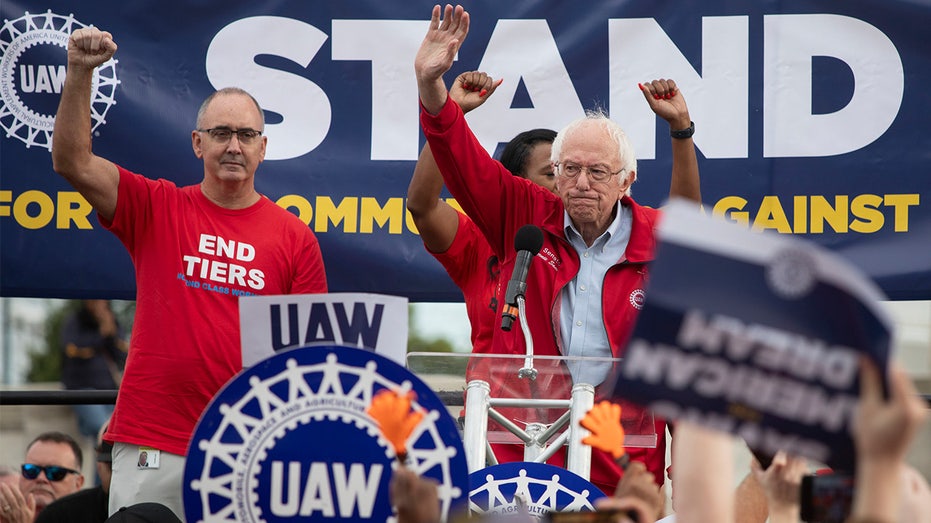 Fain went on to call for President Biden to join the UAW workers on the picket line and said, "We invite and encourage everyone who supports our cause to join us on the picket line from our friends and families all the way up to the President of the United States."
Biden expressed support for the UAW's strike and has considered sending administration officials to help facilitate talks without mediating, although he has not done so yet. White House press secretary Karine Jean-Pierre said Thursday that "we appreciate the fact that they are still at the negotiating table having this conversation. It is important that we result in a win-win agreement."
GET FOX BUSINESS ON THE GO BY CLICKING HERE
Temporary layoffs and work stoppages have mounted at the Big Three since the strike began on Sept. 15. Parts shortages stemming from facilities where workers have gone on strike have had a spillover effect, causing other facilities to idle as they run out of necessary parts or storage space.
FOX Business' Philip Bodinet contributed to this report.
This is a developing story and may be updated. Please check back for updates.