US federal budget deficit projected to double this year
Federal budget deficit expected to surge to $2T this year
The U.S. federal deficit is projected to nearly double this year as a result of higher interest rates and lower tax revenue.
The gap between what the government spends and what it collects is expected to grow from about $1 trillion last year to $2 trillion for the 2023 fiscal year that ends Sept. 30, according to the latest projections from the Committee for a Responsible Federal Budget (CRFB), a nonpartisan group that advocates for reducing the federal deficit.
"This would be the highest deficit we've ever had outside of a recession or national emergency," Marc Goldwein, a senior policy director at CRFB, told FOX Business. 
US NATIONAL DEBT TRACKER: SEE HOW MUCH THE GOVERNMENT OBLIGATIONS COST
The sizable increase stems from a number of factors, including high inflation, more expensive interest payments and a drop in tax receipts. It comes on the heels of a record drop in the budget shortfall last year, as the deficit dropped from close to $3 trillion to roughly $1 trillion after the government's record spending during the COVID-19 pandemic in 2020 and 2021.
In 2022, the government enjoyed a surge in capital gains revenue after Americans capitalized on the booming market the previous year, sold more stock and recorded large gains. The market has not fared as well since then, leading to a sharp drop in capital gains tax revenue compared with last year. 
The Treasury Department likewise benefited from a spike in general tax collection, because surging inflation essentially pushed up nominal income for millions of households. Although the IRS indexes the tax code to inflation, it does so on a lag. Higher federal income tax brackets and standard deductions took effect at the beginning of 2023, essentially allowing more Americans to shield their income from the IRS.
THE US IS PAYING A RECORD AMOUNT OF INTEREST ON ITS NATIONAL DEBT
Social Security and Medicare are also indexed to inflation, meaning the government is spending more money on those programs than it did in fiscal year 2022. 
"But mostly what's happening is it's coming to the new normal, from an unusually low 2022 deficit," Goldwein said. "That's pretty scary, because normal before the pandemic was $1 trillion. And in 2015, it was $500 billion. So we went from $500 billion is the normal, to $1 trillion is the normal, to $2 trillion is the normal in less than a decade." 
The figures exclude President Biden's $400 billion student loan cancellation plan, which was counted in the official 2022 deficit numbers but never implemented because the Supreme Court struck the policy down.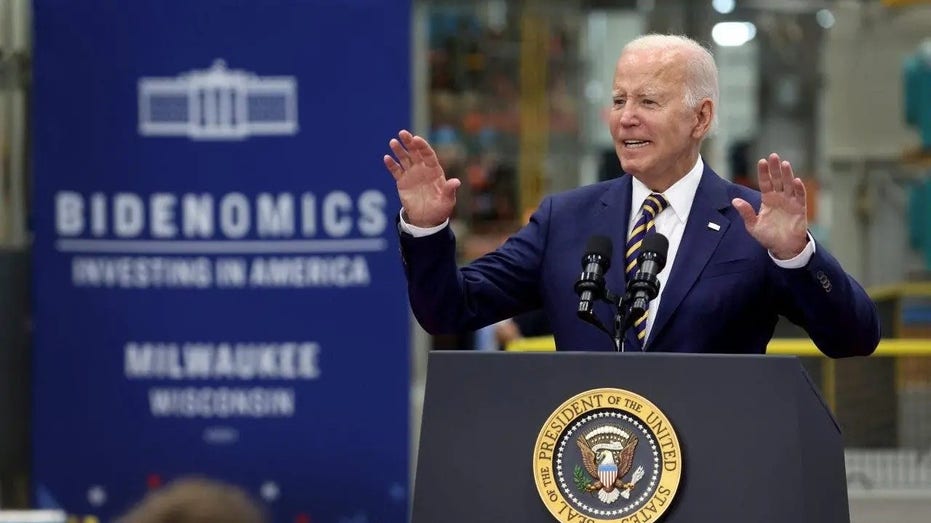 Such massive spending imbalances highlight the toll that high and rising debt can take on everyday Americans. High deficits can fuel inflation, and high debt can push up interest rates.
"Mortgage rates are as high as they've been since well before the financial crisis," Goldwein said. "Car loan rates, student loan rates, credit card rates, they're all really high."
GET FOX BUSINESS ON THE GO BY CLICKING HERE
The deficit surge comes as lawmakers rush to avert a government shutdown. The White House has urged Congress to pass a short-term funding measure, known as a continuing resolution, in order to keep the government solvent while lawmakers continue negotiations over longer-term funding bills. 
Senate Majority Leader Chuck Schumer, D-N.Y., and House Speaker Kevin McCarthy, R-Calif., have both said they want to pass a short-term deal to keep the government running.
However, a group of House Republicans — the House Freedom Caucus — is demanding a number of concessions as part of the continuing resolution, raising the risk of more down-to-the-wire drama on Capitol Hill.