Delta launches new health technologies for in-flight medical emergencies: 'As safe as possible'
Airline's chief health officer detailed new capabilities 'above and beyond' FAA requirements
With one in 604 airline flights experiencing a medical emergency — or around 144 emergencies per day, according to a 2020 study — it's critical that crews are equipped to provide quick, quality care.
To help ensure the safety of passengers in distress, Delta Air Lines is rolling out upgrades to its onboard medical tools and technology, with a goal of having them installed on its entire fleet of 1,500 planes by the end of 2023.
"Our primary goals are to protect the health and safety of our crew and our passengers in flight when they have a medical emergency," said Dr. Henry Ting, the Atlanta-based chief health officer for Delta Air Lines. 
FAA HOLDS RUNWAY SAFETY MEETINGS AT MAJOR AIRPORTS NATIONWIDE AFTER MULTIPLE CLOSE CALLS
"We felt that there were opportunities to improve and add processes, equipment and technology onboard."
While medical events are relatively rare, they are still the most frequently encountered non-routine event during Delta's flights, according to the company.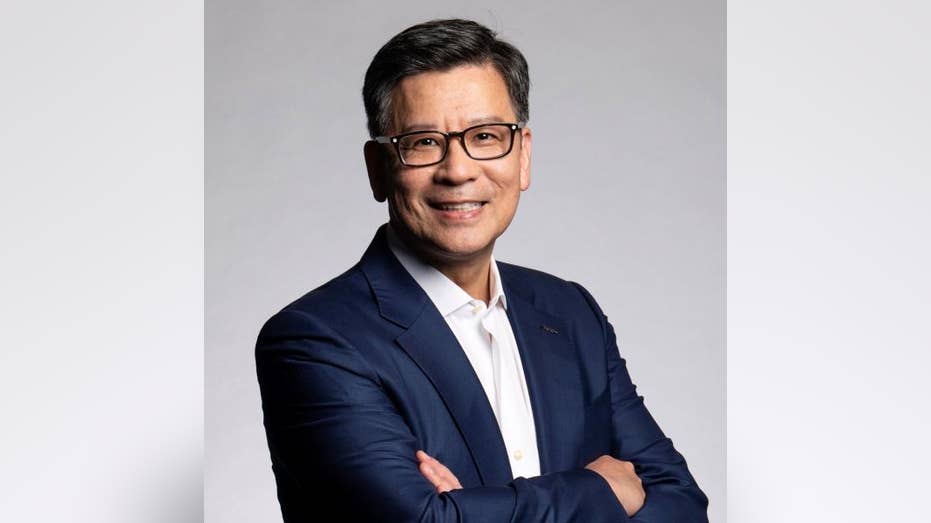 For every calendar year, the airline sees about 4,000 in-flight medical events, which equates to approximately 25 per 10,000 flights.
Ting, who is also a cardiologist, spoke to FOX Business about the company's plans to enhance its capabilities to handle in-flight medical emergencies.
AMERICAN AIRLINES PILOTS APPROVE NEW CONTRACT THAT INCLUDES PAY BOOST, BENEFITS
The first enhancement was to add MedLink. This technology gives flight attendants quick and direct access to doctors on the ground through an app on their company mobile devices.
MedLink is provided by MedAire, an Arizona-based medical technology company that will function as Delta's new "24/7 partner for medical expertise," Ting said.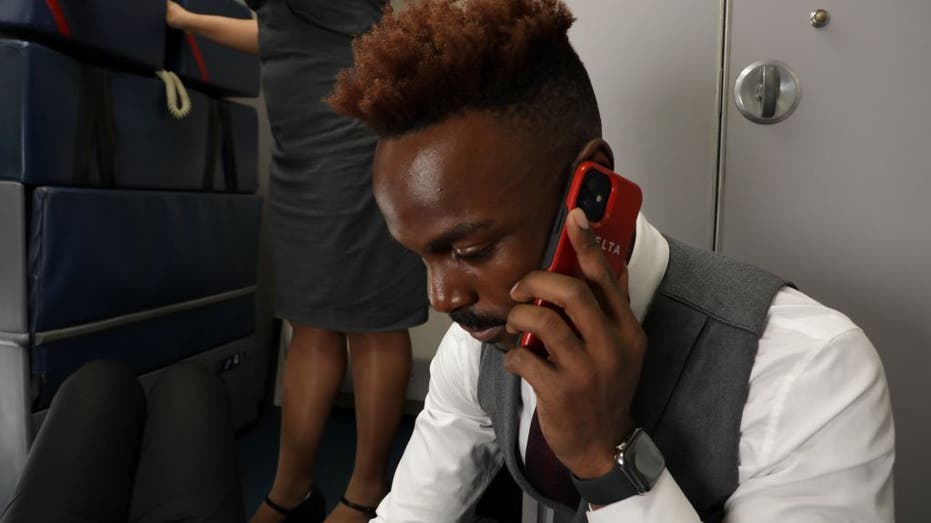 "Using the synchronous digital technology, our crews will have the ability to use an app to text back and forth, or get on the phone to speak to the medical provider on the ground," he said.
"We believe that gathering data from wearables and technology is the future of in-flight medical care, because it can be transmitted via Bluetooth and Wi-Fi directly to the provider," Ting went on.
"So we can get measurements beyond blood pressure, heart rate and temperature."
DELTA AIR LINES FLIGHT RETURNS TO BOSTON AFTER ALLEGED THREAT
Delta's other key health initiative is an upgrade of its medical diagnostic equipment, which includes a pulse oximeter, temporal thermometer, automatic blood pressure cuff and enhanced medical-grade stethoscope.
These expand flight crews' capability to quickly gather and securely communicate vital information needed by doctors, Ting noted.
For each flight, the Federal Aviation Administration (FAA) requires the airline to have an "emergency medical kit" on board.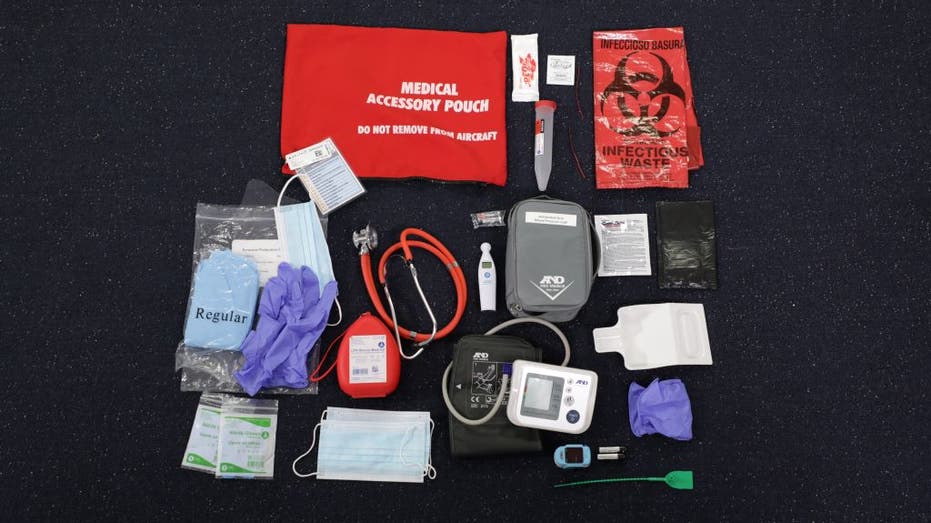 "A commercial flight cannot take off without a complete, sealed Emergency Medical Kit," the FAA said in a statement to Fox News Digital. 
"Airlines must regularly inspect all equipment, including the emergency medical kit. If the seal of an emergency medical kit is broken, and any item is used, the entire kit must be replaced before the next flight departs," the FAA added. 
"U.S. air carriers typically carry two emergency medical kits to ensure that they have a sealed one for the next flight."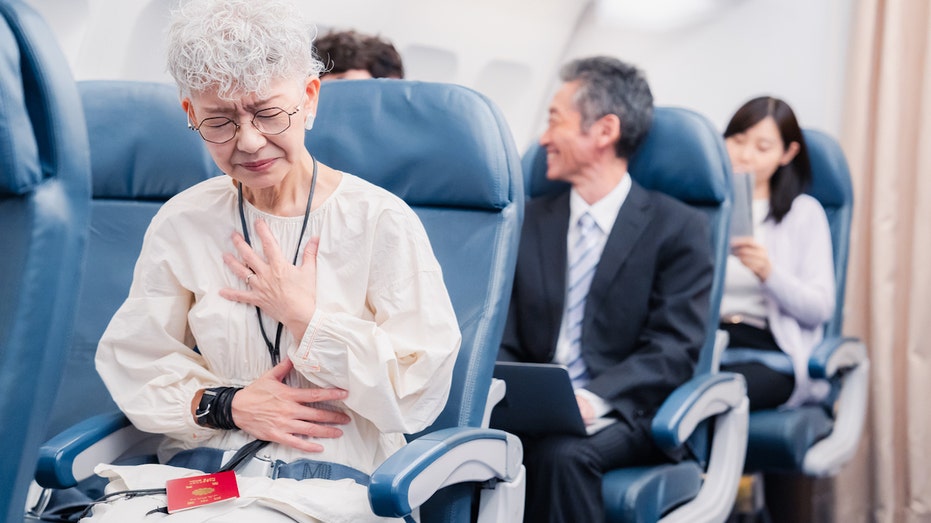 The bags include the medications and diagnostic equipment that are mandated by the FAA, but Ting said Delta "goes above and beyond."
"We have something we call the 'red pouch,' which contains additional medical equipment for the most common issues we encounter in the air," he said. 
A lot of the equipment upgrades are based on feedback that Delta has received from its own customers and flight attendants.
"For the most common emergencies, where we can save a life — we will do that."
For example, the previous stethoscope was of a lower quality and didn't allow the crew to hear much. So Delta has replaced it with a medical-grade stethoscope that a cardiologist would use.
An automatic blood pressure monitor is another upgrade.
"Instead of trying to manually blow up the provider cuff and listen with a stethoscope, we have a machine where you can press a button and get accurate blood pressure measurements in-flight," Ting said.
Rounding out the suite of upgraded medical tools is a new pulse oximeter, which allows the crew to get real-time oxygen measurements, as well as a digital temperature thermometer that gets an immediate reading when pointed at someone's forehead.
Emerging from 'wilderness medicine'
Compared to today's in-flight health care capabilities, Ting said airlines used to practice what he calls "wilderness medicine."
"There was no cell phone signal, and if you called 911, no ambulance was coming in the next five minutes," he said. 
"You could be in the middle of the Pacific Ocean and you could be four hours from each coast."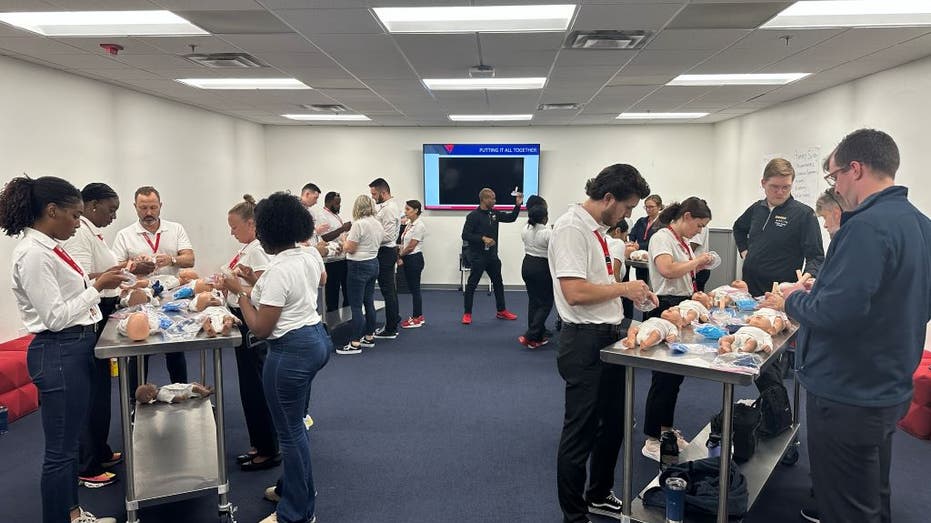 Back then, the flight attendant would gather information — such as a passenger's heart rate, blood pressure, temperature and symptoms — and record it on a sheet of paper. 
"That piece of paper was passed underneath the flight deck door to the pilot, who was on a satellite phone with headphones, talking to the provider on the ground," Ting said.
"That process itself could take five minutes. It was a real struggle and a potentially dangerous period."
"We're excited to continue to make flying as safe as possible for our crew and our passengers."
As technology and knowledge have advanced — bringing medical expertise on the ground digitally closer to the passenger — flying has become safer for crews and passengers, Ting said.
HEART DRUG COMBINING THREE MEDICATIONS IN ONE IS ADDED TO WORLD HEALTH ORGANIZATION'S ESSENTIAL MEDICINES
"We're not trying to make the airplane a hospital or an emergency room, but for the most common emergencies, where we can save a life, we will do that," he went on.
Dr. Marc Siegel, a professor of medicine at NYU Langone Medical Center and a Fox News medical contributor, emphasized the importance of fully equipped planes and trained crews.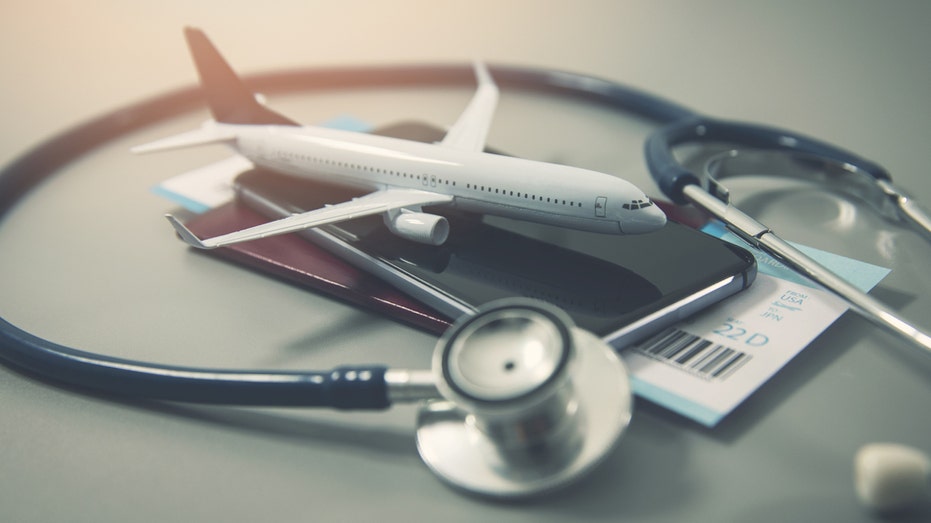 "Good Samaritans are great, but we can't rely on a doctor with appropriate training always being there," he told FOX Business.
"The plane needs people trained in advanced cardiac life support," he went on. "All planes need defibrillators and crash carts and at least one person trained to use them."
The doctor added, however, that "communication with a doctor on the ground doesn't add that much except in terms of when to use diuretics, nitroglycerin, inhalers, Narcan, etc."
Looking ahead
In the future, Delta plans to advance its technology to include telemedicine and remote monitoring, such as recording an electrocardiogram and sending it digitally to doctors on the ground to determine whether a passenger is having a heart attack.
"We're excited to continue to make flying as safe as possible for our crew and our passengers," Ting said.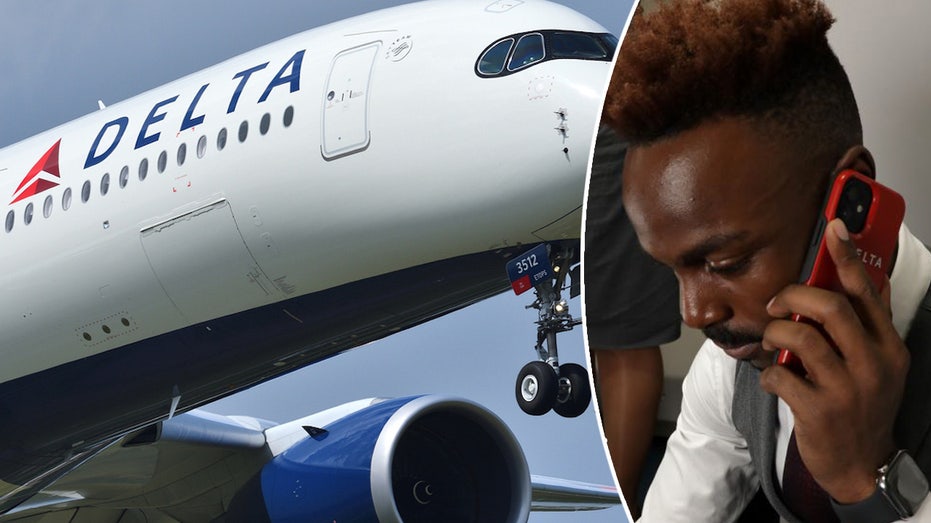 All Delta flight attendants undergo a rigorous six-week training program, which includes emergency medical response and CPR, Ting said.
"They're also trained on the use of the emergency medical equipment, including an automatic defibrillator that could save someone's life if their heart would stop beating," he noted.
"We believe that gathering data from wearables and technology is the future of in-flight medical care."
Ting said the team is making "great progress" in the rollout, using a "thoughtful, logical process."
GET FOX BUSINESS ON THE GO BY CLICKING HERE
"We started by putting this equipment on longer flights and also on flights where we had the most medical emergencies," he said.
The company is on track to equip all its planes by the end of the year, Ting said.