Elvis Presley's revolver fetches nearly $200K on the auction block
Presley's Smith & Wesson Model 53 more than doubled its pre-auction estimate by Rock Island Auction Company
An Elvis Presley firearm sold for a pretty penny on an Illinois auction block recently.
The king of rock 'n' roll's Smith & Wesson Model 53 revolver fetched $199,750 at Rock Island Auction Company (RIAC)'s August Premier Auction on Aug. 26 in Rock Island, Illinois.
The engraved revolver exceeded its pre-auction estimate of $60,000 to $90,000 due to "competitive bidding from gun enthusiasts" and Elvis fans around the world, according to a press release from RIAC.
ELVIS PRESLEY'S REVOLVER, PLUS RARE SPY GUNS TO HIT AUCTION BLOCK IN ILLINOIS: SEE THE PHOTOS
"The collectibles market has been experiencing unprecedented growth in several genres," RIAC President Kevin Hogan wrote in a statement. 
"When you combine two of those genres, Elvis' memorabilia and collector firearms, the result is tremendous excitement and high totals at auction," he added.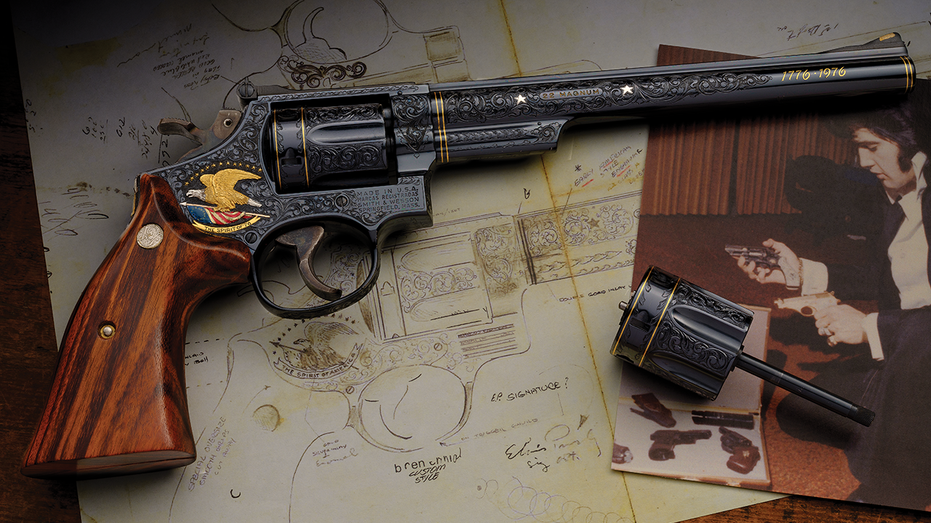 The Model 53 is embellished with gold and silver inlays.
It reflects the "Las Vegas razzle-dazzle" more than any of the star's other firearms, according to RIAC.
Master engraver Russel Smith decorated Elvis' American bicentennial gun with relief floral scrollwork, silver inlaid five-pointed stars and the years "1776-1976" inscribed in gold near the muzzle.
The side plate of the gun shows a golden bald eagle in flight carrying the 13-star American flag.
GET FOX BUSINESS ON THE GO BY CLICKING HERE
The left side of the frame features a golden minuteman surrounded by stars — and the Liberty Bell can be found on the back strap.
The gun was delivered to Presley on Nov. 16, 1976, according to RIAC's website.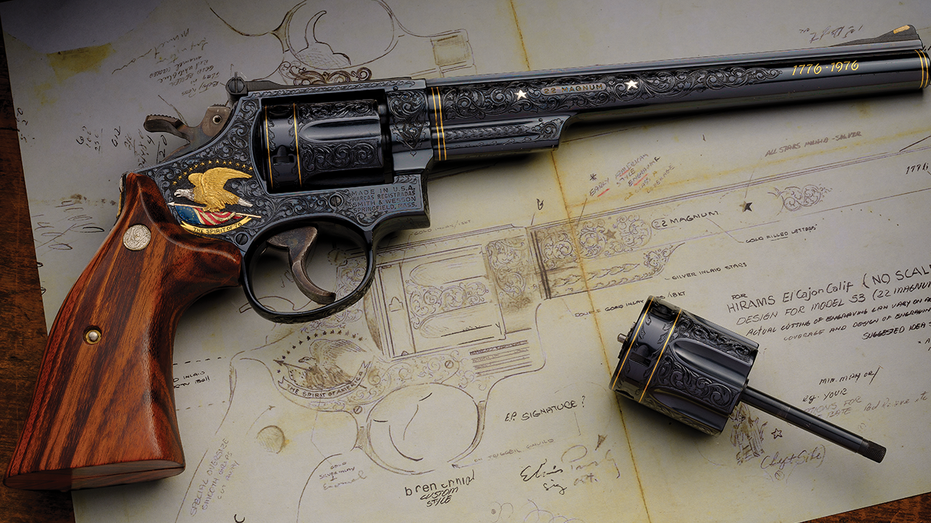 The singer passed away just nine months later, on Aug. 16, 1977.
The three-day premier event pulled in more than $21 million in total sales for RIAC, the company reported. 
The Illinois-based auction company has previously sold Elvis firearms for high prices.
It sold the king's Coly Python revolver for $172,500 and his Smith & Wesson Model 19-2 for $195,500 in 2017.