Ernest Hemingway letter detailing injuries he sustained in 2 plane crashes sells for $237K
Hemingway survived 2 plane crashes in 1954 that left him with burns and internal bleeding, letter says
A four-page letter that's said to have been written by Ernest Hemingway after he survived two plane crashes has sold for more than $200,000.
Nate D. Sanders Auctions, a Los Angeles-based auction house that specializes in selling autographed items, memorabilia, collectibles and fine art, put the letter up for auction and closed on a bid on Thursday, Aug. 31.
In a press release issued on Tuesday, Sept. 5, the auction house announced the reported 69-year-old letter received 12 bids and was sold for $237,055.
The letter, which was handwritten on April 17, 1954, on Gritti Palace-Hotel stationery from Venice, Italy, but has the year misprinted as 1953 along with visible creases and staple marks, details the physical and financial challenges Hemingway faced shortly after surviving his second plane crash.
ELVIS PRESLEY'S PRIVATE JET SELLS AT FLORIDA AUCTION: SEE THE WINNING BID 
The American novelist and his wife, Mary Hemingway, survived a plane crash in Murchison Falls in Uganda during a sightseeing visit the couple took in January 1954.
The Hemingways and other survivors were rescued by boat — and were taken to Lake Albert in Butiaba, Uganda, according to Nate D. Sanders Auctions.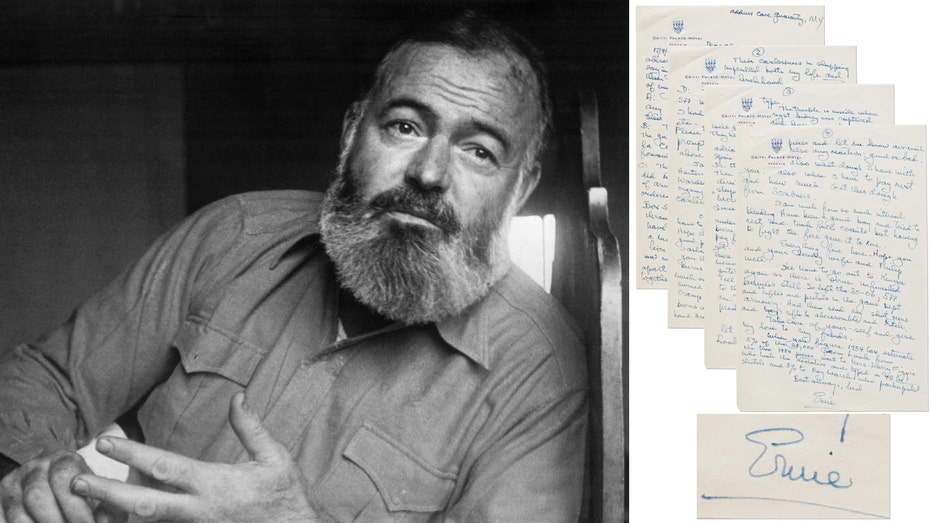 When the couple later boarded a rescue plane, the aircraft caught fire and crashed during takeoff, but both Hemingways survived.
In the now-sold letter, Hemingway addressed his lawyer, Alfred Rice, and wrote that he was having trouble writing because he reportedly suffered third-degree burns.
The novelist claimed his right arm "was burned to the bone" and "would cramp up" while his left hand and fingers were also burned.
HISTORIC PRESIDENTIAL YACHT THAT SERVED FIVE AMERICAN PRESIDENTS ON DISPLAY AT FLORIDA BOAT SHOW
Other injuries Hemingway suffered and sought to treat in Europe included a "ruptured" right kidney and an "injured" and liver and spleen, which contributed to internal bleeding, Hemingway wrote to his lawyer.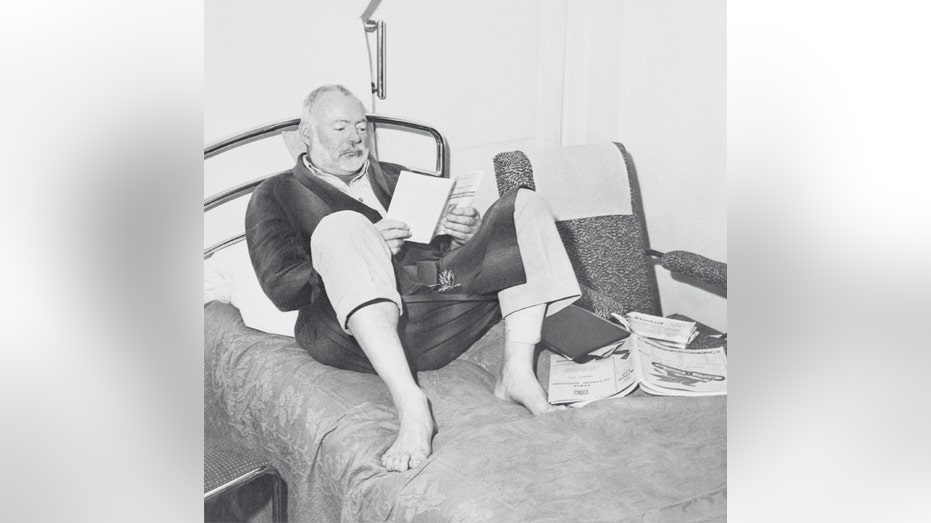 Hemingway's wife, meanwhile, was reportedly battling "a big shock" and memory struggles, according to the novelist's letter.
"This remarkable sale of Ernest Hemingway's handwritten letter not only offers a tangible connection to the legendary author's near-fatal encounters but also underscores the enduring fascination with his life's adventurous chapters," said Nate Sanders, owner of Nate D. Sanders Auctions, in a statement.
Letters from Hemingway have been auctioned on several occasions in the six decades since his death.
Sanders continued, "The bidding fervor and final price stand as a testament to the timeless allure of Hemingway's persona and his indomitable journey through adversity."
The auctioned four-page letter also described the financial challenges that Hemingway was reportedly dealing with after the two plane crashes. 
ALBERT EINSTEIN'S TOBACCO PIPE COLLECTION UP FOR AUCTION WITH BIDS OVER $20K 
Those included the loss of paper receipts and "all sorts of stuff" and uncertainty about whether the air company would compensate him for damages.
Additionally, the globetrotting writer consulted his lawyer about pending invoices and outstanding bills.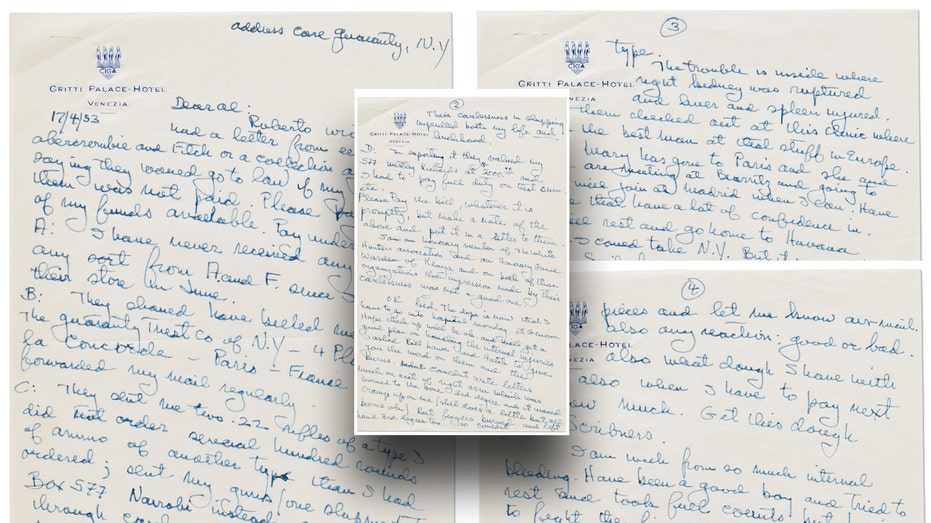 Hemingway asked his lawyer to pay Abercrombie & Fitch, an outdoor specialty retailer at the time, or a collection agency for a reported unpaid bill that may have resulted from logistical errors.
"Pay under protest," Hemingway's letter stated. "I have never received any bill of any sort from A and F, since I was in their store in June."
CLICK HERE TO SIGN UP FOR OUR LIFESTYLE NEWSLETTER
Hemingway argued that workers at Abercrombie & Fitch should have billed the account he had with the Guaranty Trust Co. of New York, which was based in France, and forwarded his mail regularly.
In his letter, Hemingway claimed Abercrombie & Fitch sent two rifles he "did not order" and an incorrect package of ammo, which contained "several hundred rounds," to the wrong address in Africa.
The package was reportedly shipped to Box 577 in Nairobi, Kenya, instead of 557 Nairobi, Kenya, which Hemingway described as "careless."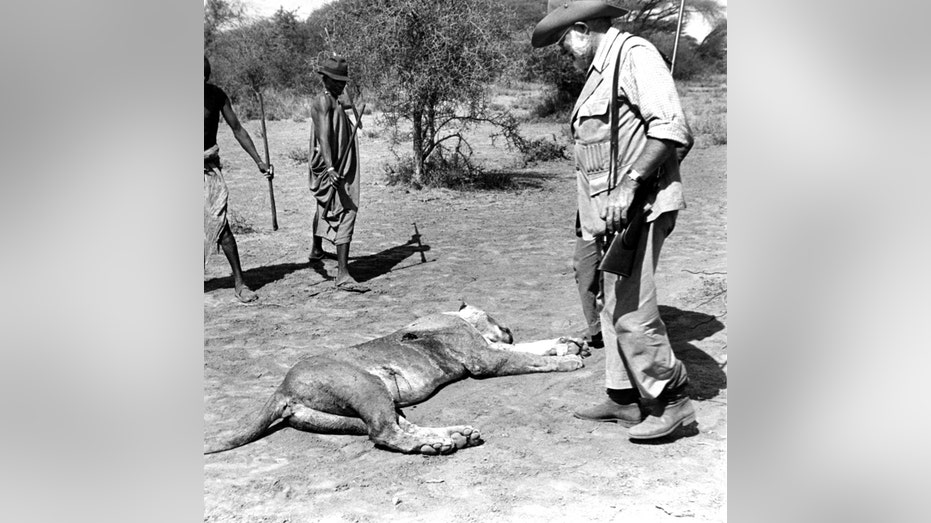 "I did not have my Springfield .30-06 for more than a month and had to shoot my first lion with a borrowed .256 Mannlicher which was so old it would come apart in my hands and had to be held together with tape and Scotch tape," Hemingway wrote to his lawyer. 
"Their carelessness in shipping imperiled both my life and livelihood."
Hemingway added that he had to "pay full duty" on the sum of his exported .577 Westley Richards rifle, which was reportedly valued at $2,000, at the time.
"Please pay the bill, whatever it is promptly, but make a note of the above and put it in a letter to them. I am an honorary member of the White Hunters Association and an Honorary Game Warden of Kenya and on both of these organizations the impression made by their carelessness was not a good one," Hemingway's letter goes on.
Letters from Hemingway have been auctioned on several occasions in the six decades since his death.
Past letters that have been sold include messages Hemingway reportedly sent to friends about his accomplishments, the meaning of life and his thoughts on the afterlife following his near-death experiences.
The famous novelist died by suicide on July 2, 1961, in Ketchum, Idaho, at age 61. 
CLICK HERE TO READ MORE ON FOX BUSINESS
A few of the author's best-known works include "The Sun Also Rises," "A Farewell to Arms," "For Whom the Bell Tolls" and "The Old Man and the Sea."
Hemingway earned a Pulitzer Prize (1953) and a Nobel Prize (1954) during his lifetime.