Lady Gaga's dad says NYC going down in a 'windfall' as trash, hypodermic needles and hookers litter streets
Restaurateur Joe Germanotta details migrant and crime difficulties in the Big Apple
Though he may be better known as Lady Gaga's father, New York City restaurateur Joe Germanotta wants to work with other business leaders and local officials to change the Big Apple's current quality of life.
"When you walk down the street now, there's trash, there's empty beer bottles, there's hypodermic needles, there's hookers," Germanotta said on "Mornings with Maria" Wednesday. "They're dealing drugs. We've got probably 50 or 60 motorbikes that are parked along the street. And then at night, at about 10 p.m. to 4 a.m., it's a block party."
Joanne Trattoria, Germanotta's signature restaurant, sits just two blocks away from one of the city hotels recently transformed into a migrant shelter. He expanded on how his business' neighborhood amid an influx of illegal immigrants.
Last week, Mayor Eric Adams noted that the migrant crisis could cost the city $12 billion by the middle of next year without policy changes and additional help from the state and federal government.
N.Y. HOTEL OWNER GETS NO RESPONSE FROM OFFICIALS AFTER OFFERING TO HOUSE MIGRANTS
"The problem is really the noise," he said. "You hear the motorbikes chirping all night long. The buildings across the street, they get the brunt of it. Racing the bikes up and down the street, and in the wrong direction."
The office of New York City Mayor Eric Adams told Fox News Digital on Wednesday that the mayor "has repeatedly called on the federal government to expedite work visas for the more than 100,000 asylum seekers that have come through our care since the spring of 2022."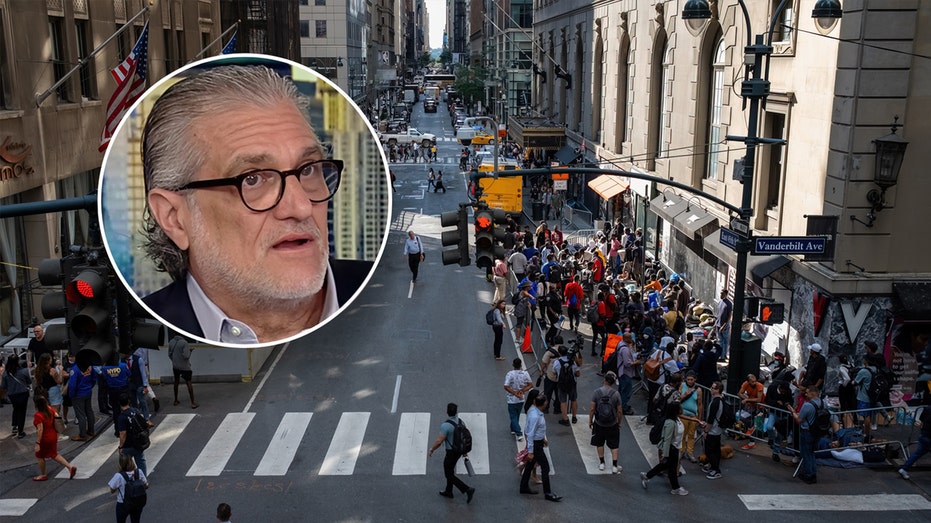 Detailing other suspicious activity, Germanotta noted: "It's really unusual because at night these cars come in from New Jersey and they hand out packages and these kids take off. I think they're dealing drugs."
The business owner claimed he and others have called the New York Police Department when potential criminal or dangerous issues arise, while also learning some hotels and residence halls are making a profit by housing migrants.
"We did a foil to get a copy of the agreement between health and hospital and [the American Musical and Dramatic Academy], they got $1.8 million just to set up the location. I don't know what they did, but it was blacked out, the room rate," Germanotta said.
"So you know, it's a windfall," he reflected.
In response to the concerns, Germanotta said that the NYPD will start assigning ambassadors to neighborhoods that have requested law and order assistance.
"In the past when we had a problem, they said, call 311, call 911. Now we have an ambassador in the neighborhood that when something goes wrong, we can give them the problem," the restaurateur said.
"They haven't started yet," he added. "They just visited us yesterday, introduced themselves."
GET FOX BUSINESS ON THE GO BY CLICKING HERE
Germanotta pointed out his confidence in the NYPD to do their job and keep the Lincoln Square area safe.
"I'm very confident," he said in hopes to see his restaurant's neighborhood turn back into "a very friendly, clean, family-oriented" place.
Fox News' Adam Shaw contributed to this report.