On Grandparents Day and every day, entrepreneur offers handy products for seniors: 'Honor them'
Items promote 'dignity' and 'independence' for America's elders, says Florida-based entrepreneur
Grandparents Day — Sept. 10, 2023 — is a time to remember the special people in families' lives. 
One entrepreneur based in Lakeland, Florida, said she "understands the significance of the day all too well," she told FOX Business in a statement.
JoAnn Tilghman is the visionary behind Granny Jo Products.
Her product line offering more "dignity and independence" for older adults was inspired, she said, by her mother-in-law's journey with Alzheimer's disease and by her own mother's hip replacement experience.
COSTCO'S 'ESCAPE SHED' LISTED FOR $11K ONLINE: 'CAN'T BEAT THIS DEAL'
Tilghman's items for seniors, most of them American-made, are helping to "transform the way" people care for and honor the cherished older adults in their lives, she said — adding they "promote dignity in aging."
On "Grandparents Day, let's celebrate the wisdom, love and grace of our grandparents and all elderly loved ones by honoring them with thoughtful products," she shared with FOX Business.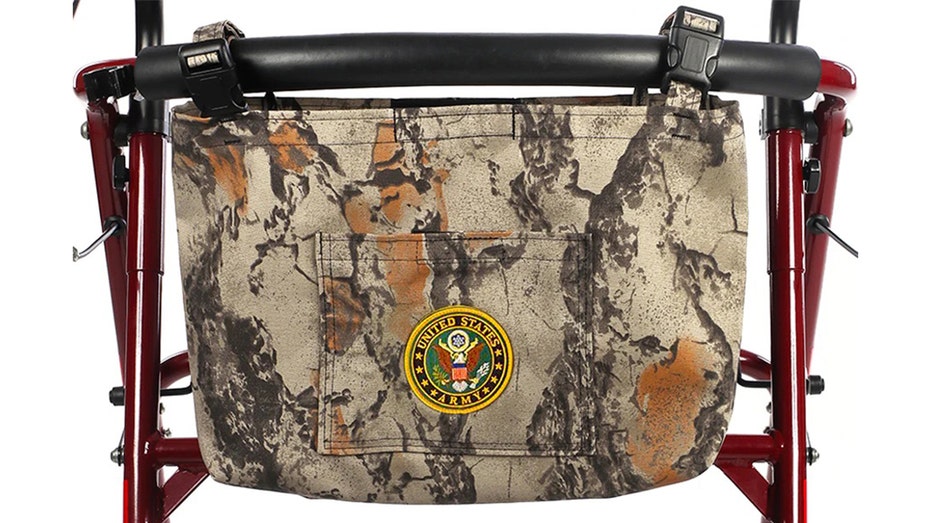 She told FOX Business previously that before she launched her small business, she was "an average American mom — complete with the minivan and the bake sales."
She said she had been "on the typical mom track."
She noted, "I'd been PTA president, Boy Scout den mother, Sunday School teacher."
UK GRANDPARENT LIVES OVER 100 YEARS, SHARES KEY TO LONG LIFE: HERE'S HER UNIQUE SECRET
Then, in 2006, she added to her list "founder and president" of a company whose products are sold all around the world. 
It began when Tilghman was taking care of her mother-in-law. 
Whenever she made tea or soup for her, she noticed her mother-in-law had trouble grasping the everyday one-handled ceramic mug.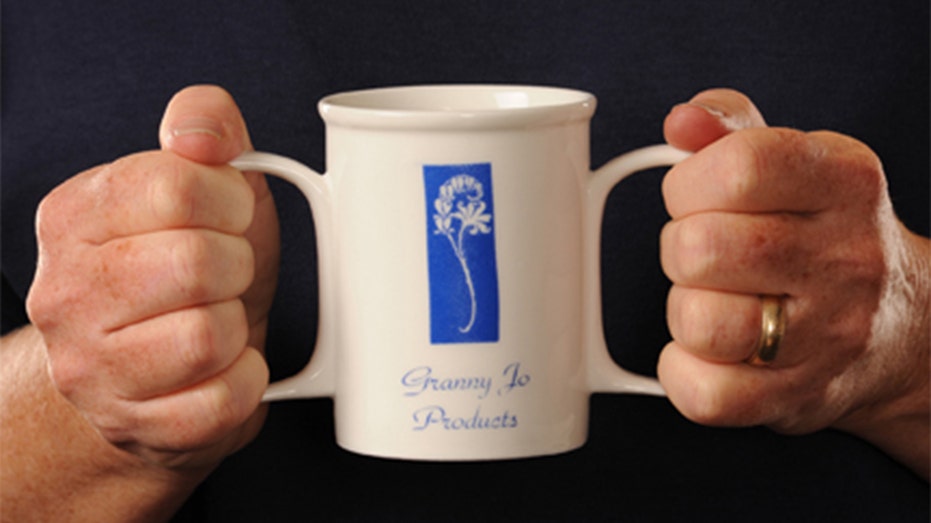 And when she did pick it up, her single hand was unsteady and awkward. 
Tilghman realized it wasn't the weight of the mug that was the issue; it was the habit of holding it with just one hand and by just one handle.
So she had her son, James, create a mug with two handles — which she said instantly solved the problem. 
She touts the "dignity and independence" that these items help give those who can use them.
Tilghman christened her new product the Dignity Mug — and set her sights high.
"Probably after about a week, I thought, 'This doesn't make sense that this product isn't on the market,'" Tilghman said.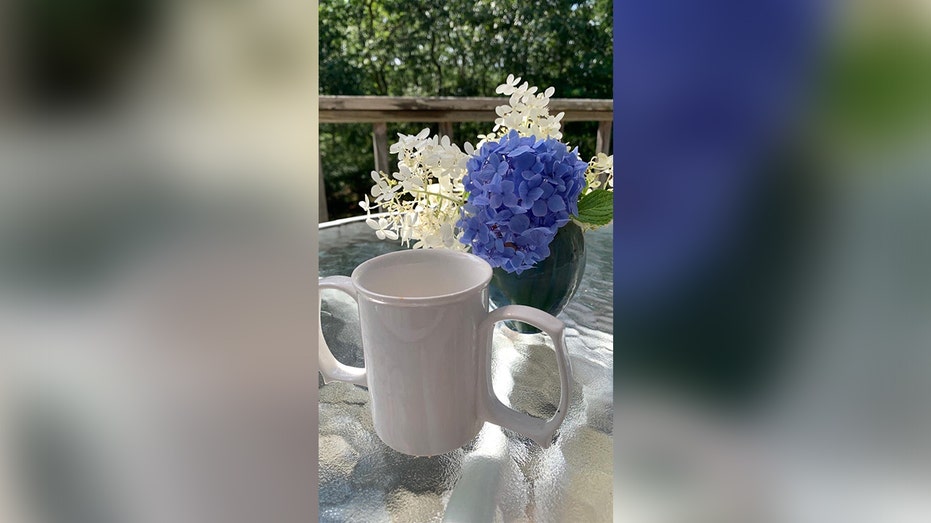 "How can this product not be available, because my mother-in-law certainly can't be the only person who need[s] it?"
Her mission went from there.
"She even travels with your mug and warns everyone that if they break it, there will be the devil to pay."
Today she offers multiple products for sale, touting the "dignity and independence" that these items help give those who can use them.
Nearly all of them are made in America, she said, and she is aiming to move to 100% American-made as soon as she can.
CLICK HERE TO SIGN UP FOR OUR LIFESTYLE NEWSLETTER
In a testimonial featured on the company's website, one customer wrote, "I purchased two of your Dignity Mugs for my mother and I wanted to let you know that they are her prized possessions; she even travels with your mug and warns everyone that if they break it, there will be the devil to pay."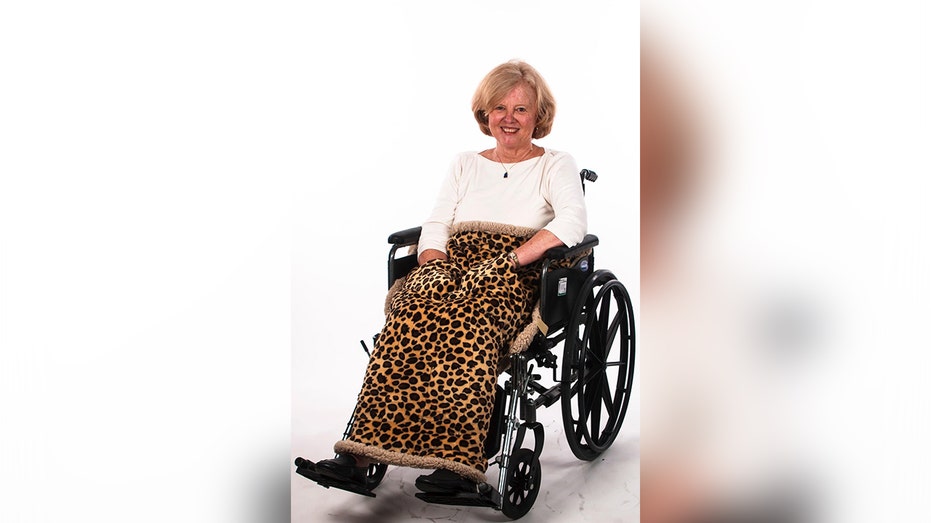 Among the other items for sale is a Camouflage Walker/Wheelchair/Scooter Bag, which is made in America and has a "heavy, durable camouflage fabric," the company says. 
The bag features "easy-to-use clips" so it can be attached to any mobility device.  
"It has an 8-inch by 6-inch exterior pocket," the company also says, "with hook and loop closure and measures 17 by 9 inches."
"We believe that our products can make a difference in quality of life, and we are proud to have developed this line of items to help the people we love stay active, independent, comfortable and fashionable," Tilghman notes on her website.
GET FOX BUSINESS ON THE GO BY CLICKING HERE
With the holidays up ahead, it won't escape consumers' notice that many of these items might make thoughtful Christmas or holiday gifts as well. 
Anyone seeking more information can visit grannyjoproducts.com. 
Charles Payne of FOX Business Network, along with Teresa Sheffield, contributed reporting.