Video shows bear captured at Disney World being released into the wild: 'Good bear, go, go, go!'
Black bear was spotted at the Magic Kingdom theme park on Monday
The Florida Fish and Wildlife Commission has released a video showing the black bear that was captured this week at Walt Disney World being freed into the wild. 
The footage begins with a person crouching on top of a trailer banging on its side and the bear leaping out onto the grass of the Ocala National Forest. 
After pausing for a second to check its surroundings, the animal then scampers off into the darkness. 
"Good bear, good bear, go, go, go!" a voice is heard saying. 
DISNEY'S MAGIC KINGDOM PARTIALLY CLOSED AFTER BLACK BEAR SPOTTED ON THE LOOSE, LATER CAPTURED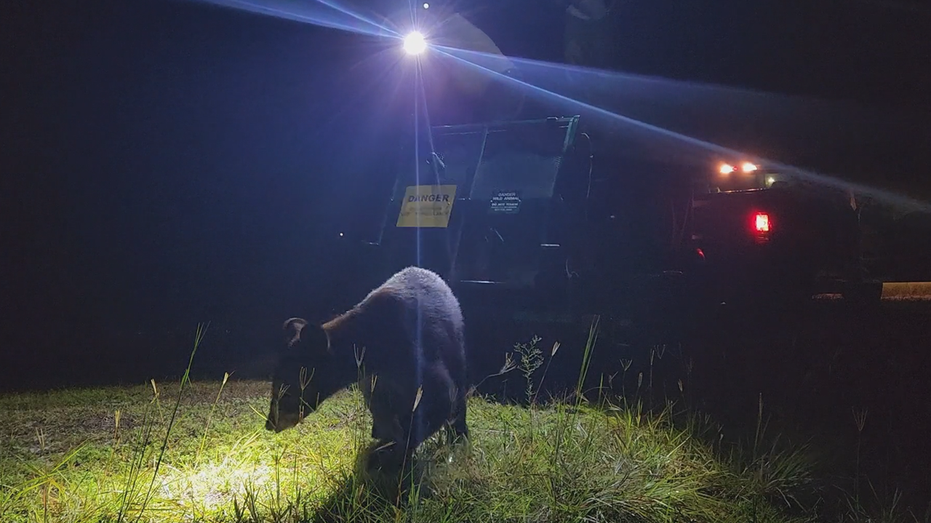 Almost half of the Magic Kingdom theme park at Walt Disney World was closed at one point as a result of the bear's presence Monday, according to reports. 
Around 1 p.m. Monday, Disney said it then made the decision to reopen Frontierland, Liberty Square and Adventureland at Magic Kingdom, as crews remained "on site and working on capturing and relocating the bear." 
"We are working with the Florida Fish & Wildlife Conservation Commission and have made the decision to reopen Frontierland, Liberty Square and Adventureland at Magic Kingdom Park," a Disney spokesperson told Fox News Digital.  
The Florida Fish and Wildlife Conservation Commission (FWC) confirmed it "is aware of a black bear reported in a tree on Walt Disney World property at the Magic Kingdom."  
DISNEY ASKS COURT TO NARROW FEDERAL LAWSUIT AGAINST DESANTIS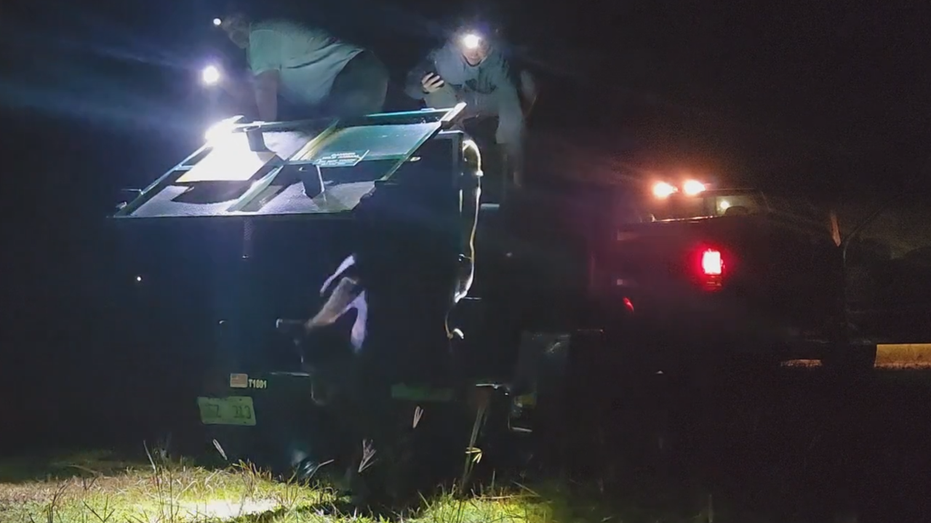 FWC later confirmed the bear had been safely captured. 
"Biologists with the FWC's Bear Management Program, as well as FWC Law Enforcement officers, have safely captured the adult, female bear. In most cases, it is best for bears to be given space and to move along on their own, but given this situation, staff have captured the animal and are relocating the bear out of the park to an area in or around the Ocala National Forest," the Commission said in a statement. 
During the fall, bears are more active as they search for food to pack on fat reserves for the winter, according to the commission, adding, "this particular bear was likely moving through the area searching for food." 
CLICK HERE TO GET THE FOX NEWS APP 
A spokesperson for the FWC told Fox35 Orlando on Tuesday that the bear is "doing well."