Visitor accidentally shatters Jeff Koons sculpture at Miami art show
Art sculpture by Jeff Koons was valued at $42K
A "balloon dog" sculpture by artist Jeff Koons came crashing to the floor last week while on display at a prestigious art show in Miami.
An art collector tapped the $42,000 art piece during the VIP preview of Art Wynwood, an art fair produced by Art Miami, on Thursday night, knocking it off its stand, according to the Miami Herald. The porcelain sculpture, which was on display at Bel-Air Fine Art's booth, hit the floor and shattered.
Stephen Gamson, a Miami artist who was at the event, told the outlet that the reaction from the crowd was similar to "how a car accident draws a huge crowd." 
PICASSO'S 'GUITAR ON A TABLE' SELLS FOR MORE THAN $37 MILLION
Representatives for Art Wynwood and Bel-Air Fine Art didn't respond to FOX Business' request for comment. 
Koons is described by Bel-Air Fine Art as an "undisputed master of the art market" and "neither more nor less than the most expensive living artist in the world."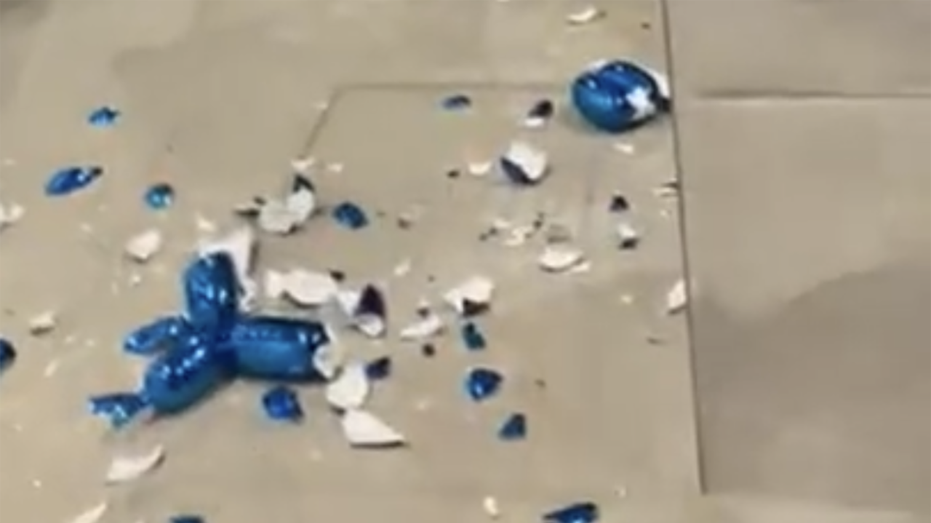 Koons is famous for his giant sculptures. One of them, titled "Rabbit," sold for $91 million during a Christie's auction in New York in 2019. 
SERIAL KILLER JOHN WAYNE GACY'S CLOWN PAINTING SELLS FOR $10K AT SPOOKY AUCTION
"This historic sale made the sculpture the most expensive work by a living artist," Bel-Air Fine Art said. 
The art fair is also described as an opportunity for collectors to "discover and explore the world's most prestigious contemporary, emerging and modern art galleries." 
GET FOX BUSINESS ON THE GO BY CLICKING HERE
However, even with the sculpture's high price tag and prestige, the woman who mistakenly knocked it off its pedestal won't have to foot the bill. Bénédicte Caluch, an art adviser with Bel-Air Fine Art, told the Miami Herald that the artwork was covered by insurance.