Woman celebrating 43rd wedding anniversary wins $25K a year for life in lottery
New Hampshire woman unknowingly places winning lottery ticket in anniversary card: report
A woman from New Hampshire has won a $25,000 a year for life prize from a multi-state lottery game just in time for her 43rd wedding anniversary.
Shelley German, of Salem, New Hampshire, purchased a Quic Pic lottery ticket and played the Lucky for Life game in late July, according to a press release issued by the Massachusetts State Lottery on Wednesday, Aug. 2.
The multi-state Lucky for Life game requires five matching numbers between 1 and 48 and a sixth "Lucky Ball" number between 1 and 18, according to the lottery game's frequently asked questions webpage.
IOWA WOMAN WINS LOTTERY 22 YEARS AFTER TORNADO DESTROYS HOME: 'NEVER BEEN MATERIAL PEOPLE' 
The Massachusetts State Lottery reports that the first five numbers German selected matched the Lucky for Life drawing on Friday, July 28.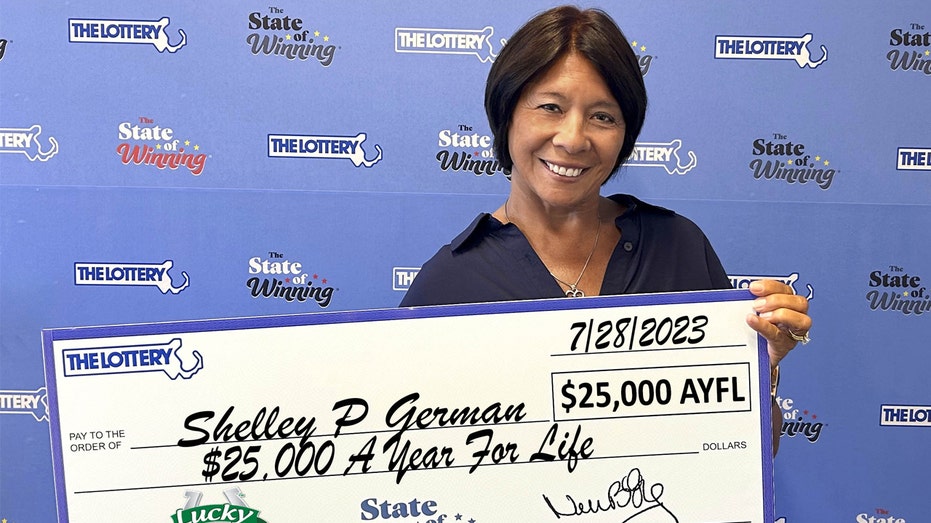 Initially, German thought she only matched four of the winning numbers, and placed her winning ticket inside an anniversary card, so her husband could take a look later, according to the Massachusetts State Lottery.
The couple learned that they won the lottery after they reviewed the ticket together, the lottery board reports.
German and her husband claimed their $25,000 a year for life prize on Wednesday, August 2 at Massachusetts State Lottery headquarters in Dorchester.
HOW TO UP YOUR CHANCES OF WINNING THE LOTTERY 
The lucky German opted for Lucky for Life's annuity option, which will award her 20 annual payments of $25,000, before tax withholding.
German collected her first annuity payment during her August visit to the Massachusetts State Lottery headquarters, according to the lottery board's press release.
The lump sum collection option for Lucky for Life's $25,000 a year for life prize amounts to $390,000 while the annuity collection option amounts to $500,000 over the course of 20 years, according to the lottery game's website.
"German, who plays Lucky for Life regularly after having seen it on an episode of the TV show 'My Lottery Dream Home,' said she plans to spend some of her winnings on home improvements," the Massachusetts State Lottery wrote in its press release.
LOTTERY WINS OF 2022: A LOOK BACK AT PEOPLE 'HITTING THE JACKPOT' 
The odds of winning the five-number Lucky for Life prize of $25,000 a year for life is 1 in 1,813,028, according to the lottery game's "Odds & Prizes" webpage.
The retailer that sold German her winning ticket – Ted's Stateline Mobil, located at 551 Broadway in Methuen, Massachusetts, (near the border of New Hampshire where German lives) – is receiving a $5,000 bonus for its sale of the ticket, according to the Massachusetts State Lottery.
Lucky for Life is playable in 22 states and the District of Columbia. 
GET FOX BUSINESS ON THE GO BY CLICKING HERE
The lottery game's website states that its 23 lottery partners donate money to their local areas, which support initiatives, such as education, public health, safety and environmental protection.