Elon Musk's Tesla Cybertruck: 5 fast facts
EV maker boasts electric truck is 'rugged and refined'
The Tesla Cybertruck production candidate made its debut in Texas this week when CEO Elon Musk took the electric truck for a spin sharing the drive on X, the platform formally known as Twitter. 
TESLA SPONTANEOUSLY CATCHES FIRE, FIREFIGHTERS TAG ELON MUSK IN SOCIAL MEDIA POST
Ticker
Security
Last
Change
Change %
TSLA
TESLA INC.
236.08
+0.63
+0.27%
The reveal marks a milestone for Tesla after Musk, last year, said supply chain shortages affected the delivery of critical components pushing back Cybertruck production to 2023.
And after the initial reveal of Cybertruck in 2019 resulted in a demonstration that did no as planned when a window cracked.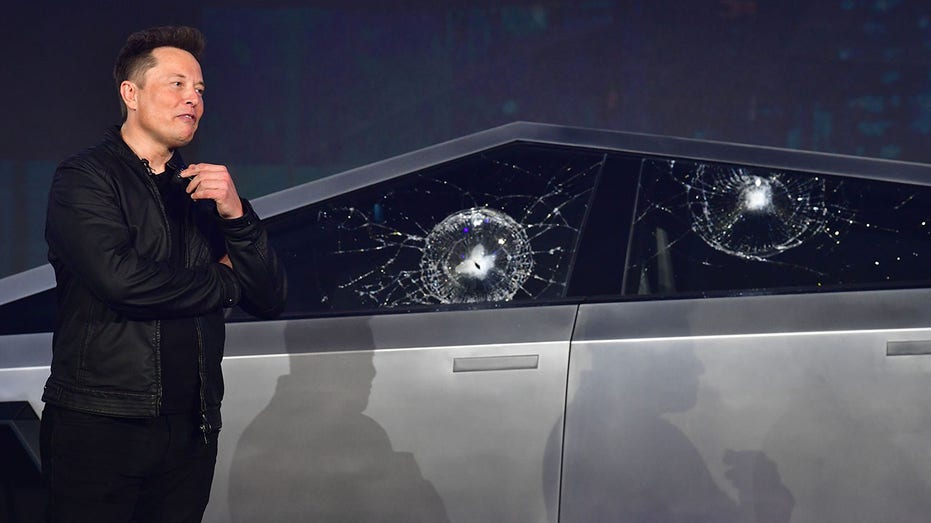 FOX Business takes a look at the highly anticipated vehicle which may shake up the lucrative business of trucks dominated by Ford and GM and on a smaller scale Rivian. 
Ticker
Security
Last
Change
Change %
F
FORD MOTOR CO.
10.34
-0.06
-0.58%
GM
GENERAL MOTORS CO.
28.50
+0.32
+1.14%
RIVN
RIVIAN AUTOMOTIVE INC.
16.66
+0.23
+1.40%
1. Performance Materials & Size 
"This is the first truck that we're aware of that will have four doors over a six-foot bed and fit into a 20-foot garage. So, it's sort of biggish on the outside, but it's even bigger on the inside. So, one of the elements of good design is it should feel bigger on the inside than it looks on the outside. And this is -- this is no small car" said Musk during the company's July conference call. 
Despite the mishap in 2019, Tesla's Cybertruck uses ultra-strong glass and polymer-layered composite to absorb and redirect impact force for improved performance and damage tolerance.
ELON MUSK SHOWS OFF PRODUCTION CYBERTRUCK IN TEXAS
The electric truck also boasts a "nearly impenetrable exoskeleton" where every "component is designed for superior strength and endurance, from stainless-steel structural skin to Tesla armor glass," according to Tesla's website.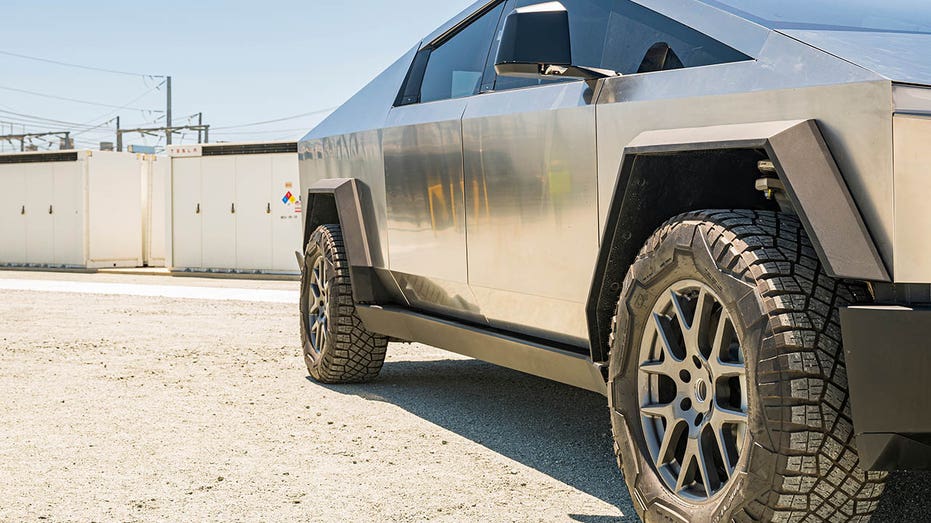 The monochrome exoskeleton is also designed to remove dents, damage and long-term corrosion, Tesla says.
2. Speed and Range 
According to Tesla, the Cybertruck's low center of gravity will give drivers "extraordinary traction control and torque", allowing the vehicle to accelerate from 0-60 mph in 2.9 seconds with up to 500 miles of range.
TESLA DATA BREACH AFFECTS 75,375 PEOPLE, STATE ATTORNEY GENERAL ANNOUNCES
The truck was also designed to handle up to 3,500 pounds of payload with a towing capacity of over 14,000 pounds for both the "rugged to refined", Tesla says, while including on-board power and compressed air. 
3. Orders and Deliveries 
Wall Street will be closely watching orders and deliveries of the Cybertruck. 
"Demand is so -- so far, off the hook, you can't even see the hook. So, that's really not an issue. I do want to emphasize that the Cybertruck has a lot of new technology in it" he said in July when asked about both on the earnings call. 
"Auto deliveries provide a direct insight into revenues and production, and when a manufacturer struggles to meet expectations, both shareholders and industry take notice," Brian Kuney told FOX Business. As a VP for the Manufacturing Extension Partnership and consultant in the supply chain of luxury autos like BMW, Volvo and Mercedes, he also noted the company's progress with traditional EVs. 
TESLA DEBUTS CUSTOMER REFERRAL IN EV WAR'S NEXT MOVE
"Tesla is really ramping up manufacturing production and it shows with an 83% rise in year-over-year deliveries" he added. 
In the second quarter this year, the company delivered 440,808 vehicles up from 258,580 in the same quarter a year prior.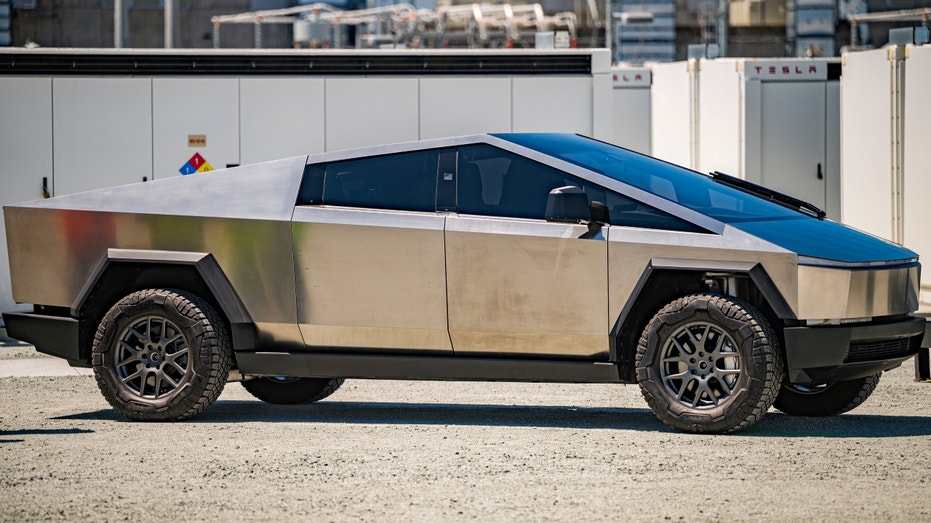 During a Tesla shareholder meeting in May of this year, Musk said the company is aiming to produce roughly 250,000 Cybertrucks annually, depending on demand.
4. Cost and Competition 
When Musk first announced the Cybertruck in 2019, the company allowed would-be buyers to pay $100 to reserve a future Cybertruck, which then had a projected initial price of less than $40,000. The electric pickup has also undergone some design changes since it was first announced.
According to auto research firm Kelley Blue Book, the initial cost may start at $50,000. 
ELON MUSK SAYS SPACEX USING STARLINK TO AID MAUI WILDFIRE RECOVERY
Actual pricing details for the Cybertruck aren't yet available, and Tesla hasn't announced specific details about its specifications or an official date on when initial deliveries to dealers will begin.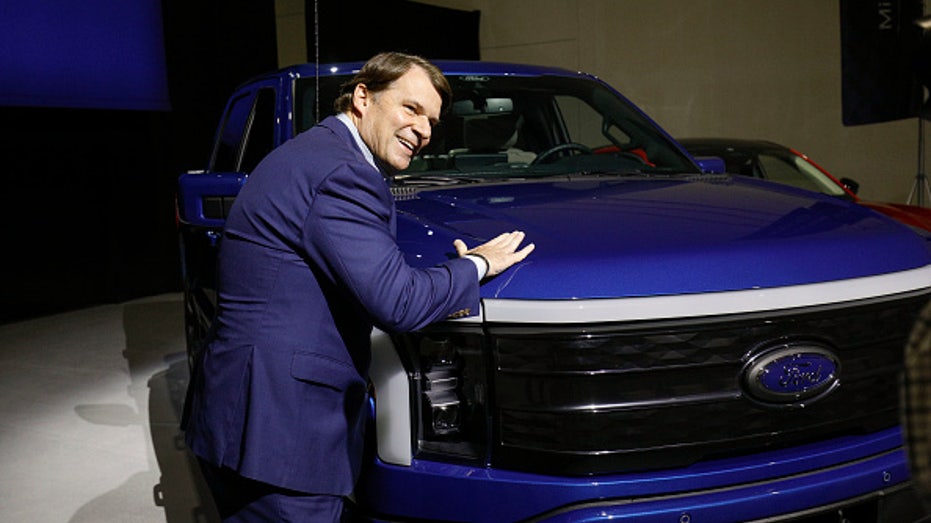 Meanwhile, the Ford Lightning and Rivian makeup the Cybertruck's chief competition, although the Ford electric pickup has been mired in recalls, while Rivian's lower production totals and annual revenues pale in comparison Tesla's. 
FORD CUTS PRICES ON F-150 LIGHTNING TRUCK
5. Tesla Stock
Tesla shares have advanced 93% this year, well ahead of the S&P 500's 15% rise. 
In August, Wedbush analyst Daniel Ives said he would remain firmly bullish on Tesla, while in July funds related to Cathie Wood's ARK Invest dumped $14 million in Tesla shares. 
According to trade disclosures the ARK Innovation ETF offloaded 38,329 Tesla shares, as the ARK Next Generation Internet ETF sold another 6,855 shares of the EV maker's stock.