'Shark Tank' star Kevin O'Leary bashes SVB bailout, moves assets out of banks
Silicon Valley Bank collapse, bank-run contagion not like 2008 crisis, Kevin O'Leary argues
O'Leary Ventures Chairman and "Shark Tank" investor Kevin O'Leary has ripped apart regulators' response to the Silicon Valley Bank (SVB) bailout and taken market action. 
"There's going to be problems ahead here because, frankly, I don't think just guaranteeing deposits is enough to keep everybody with all of their money in just the regional bank. There's going to be diversification," O'Leary told FOX Business host Neil Cavuto on "Cavuto: Coast to Coast" Tuesday.
"Even in our own portfolio, we have now moved our assets across five different financial institutions," he continued. "I don't care anymore to take risk and concentrated risk, and I think others will do the same."
O'Leary's comments came just after the U.S. Department of Justice and Securities Exchange Commission announced a formal investigation into Silicon Valley Bank's insolvency, which became the second-largest bank to close since the Great Recession over the weekend.
SILICON VALLEY BANK COMMITTED 'ONE OF THE MOST ELEMENTARY ERRORS IN BANKING,' LARRY SUMMERS SAYS
After federal banking regulators held an auction and ensured backstop protection, the "Shark Tank" star predicted "all kinds of new regulations" would be created for the regional bank system.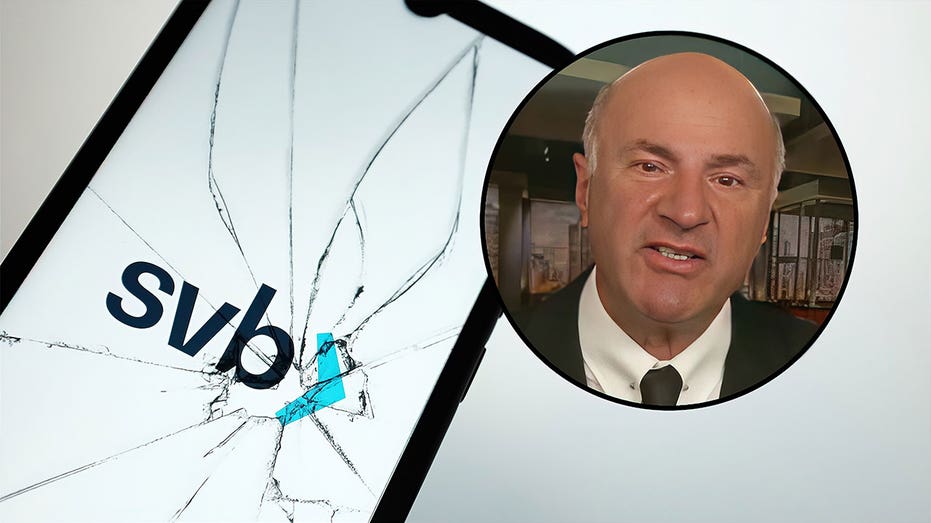 "We have more of those black swans swimming in the lake, we don't know where they are," O'Leary warned. "So I think we basically have to make a decision, and I think this is something every investor's thinking about, is maybe this sector – we got 11 sectors in the economy – this sector services all other 10, maybe it's just utility that's going to be way over-regulated and make really lousy returns for shareholders going forward."
Regulators took an "isolated incident" and applied it as an overall banking concern, ultimately putting up a "moral hazard" in front of the industry, O'Leary argued.
"This is not like '08 in any measure… Silicon Valley Bank had stupid loans out. That's the bottom line, everybody's figured that out."
"If we had just let that collapse before we got into panic, we would have had a much better situation. We would have said: okay, 95% of these assets were covered, no problem. And so 5% for people that had more than $250,000 per account is something the bank could have absorbed," the investor explained.
The bailout policy has "unintended consequences" including giving the implication to banks that the Federal Reserve will always come to the rescue, O'Leary added.
"Going forward, I think a lot of bank managers are going to say, 'Wait a second, I have no risk. I'm going to go crazy like those guys did at the Silicon Valley Bank and do stupid leverage things. Because if anything goes wrong, as long as I stay within the baseball rules of banking, nothing can happen to me because the Fed covers all my depositors. I don't have to worry if I'm crazy.' That's the problem we've got," he said.
Responding to Lehman collapse forecaster Robert Kiyosaki's prediction that Credit Suisse would become the next bank to fall, O'Leary advised the government to "let it fail" this time.
"Cooler heads would have prevailed 48 hours later, realizing that really 95% of the assets are recoverable in Silicon Valley Bank now," the "Shark Tank" star said. "The franchise value of the words 'Silicon Valley Bank' has been trashed. It's no better than radioactive waste. It's become the poster boy for idiot management. So no one's going to want that brand. Not here, not anywhere. And so I'm not really confident that they're going to get bought."
GET FOX BUSINESS ON THE GO BY CLICKING HERE
But at the same time, "Mr. Wonderful" noted, when one bank fails, it doesn't mean "every one of them fails."
"This is not like '08 in any measure… Silicon Valley Bank had stupid loans out. That's the bottom line, everybody's figured that out," O'Leary said. "No one had ever heard of this bank just 48 hours ago. Now they're the poster boy for doing stupid things in banking. We should have let them fail, and not panic and not change policy for the entire banking system."