Americans depend on credit cards more than ever: survey
More than half of consumers don't pay off credit card balances in full each month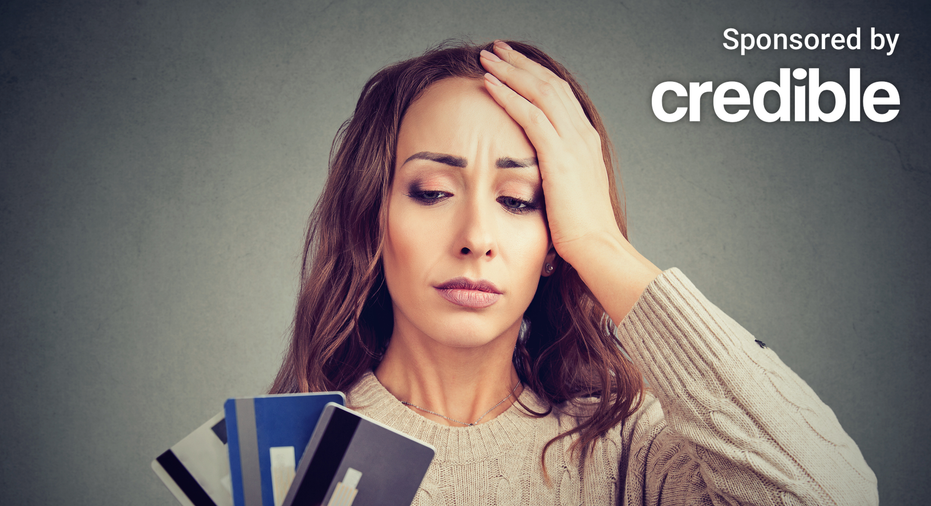 Amid high inflation and rising interest rates, many Americans are becoming increasingly dependent on credit cards, according to a survey by Quicken. 
In fact, two in five Americans with credit cards said they were more dependent on their credit cards than ever before, the survey found. And 35% said they won't be able to pay off their credit card debt before the end of the year. In addition, another 35% of respondents said they'd likely max out at least one credit card by the end of 2023. 
"This increased reliance on credit cards is likely to lead many even deeper into debt – which is especially troublesome with interest rates well into the double digits," Quicken said in its report.  
Credit card interest rates are hovering just above 20%, according to Quicken's data. And managing credit card debt seems to be troublesome across income levels. 
Among people with annual incomes above $150,000, one third (34%) said they'll have a harder time paying their cards off this year than they did the last. Meanwhile, 39% of Americans across income levels are living paycheck to paycheck and don't see an end in sight, Quicken said in its report. 
"Our research shows an economic divide that is widening among Americans – there is a large group of hard-working people who are still struggling financially," Quicken CEO Eric Dunn said. "I'm troubled by the compounding problems facing this group – many of them are living paycheck to paycheck and relying on credit cards they may not be able to afford. It's clear that strong financial planning is more important than ever to help Americans break this cycle and start closing the gap."
If you're struggling with high-interest credit card debt, you could consider paying it off with a personal loan at a lower interest rate. Visit Credible to speak with a personal loan expert and get your questions answered. 
PARENTS PLAN TO SPEND LESS ON BACK-TO-SCHOOL SHOPPING THIS YEAR: SURVEY
Americans take on record debt
Amid high inflation and an increased interest rates, Americans' total debt reached a record $17.05 trillion in the first quarter of 2023 and credit card balances were about $986 billion, according to data by the Federal Reserve Bank of New York. 
But paying off credit card debt is a struggle for many, according to a report by First Tech Credit Union. Only 38% of consumers pay off their credit card balance in full each month, First Tech Credit Union said. 
This trend is more common among older consumers, with only 30% of consumers between 50 and 64 years old paying off their credit card balances month-to-month, according to the report. Meanwhile, more than 40% of consumers between the ages of 25 and 34 pay off their credit card balances each month.
Despite high interest rates, credit cards have become a key component in many Americans' finances, according to data by the Consumer Financial Protection Bureau (CFPB).
"Credit cards are one of the most common financial products in our country, providing the bulk of short-term credit for families," the CFPB said in a post. "Interest rates on credit cards have risen substantially, with average interest rates going over 20%. Given the trends for the 175 million Americans with credit cards, the CFPB estimates that outstanding credit card debt may continue to set records and could even hit $1 trillion."
However, some consumers end up paying more interest on credit cards than expected.
"Paying the minimum balance on your credit card might seem like an attractive option because it lowers your monthly payment, but it can actually end up costing you a lot more in the long run," First Tech Credit Union said in its report. "When you factor in your credit card's high interest rate, you're barely making a dent in the principal amount owed. As a result, it can take months — or even years — to pay off the balance, and you'll end up paying a lot more in interest charges over time."
If managing your credit card bills is a struggle, you could consider refinancing high-interest credit card debt into a personal loan at a lower interest rate, thereby reducing your monthly payments. Visit Credible to compare options from different lenders without affecting your credit score.
NEARLY HALF OF AMERICANS SAY INCOME IS NOT KEEPING UP WITH INFLATION: TRANSUNION
The Fed raises interest rates, with no sign for what's next
The Federal Reserve has raised interest rates 11 times since 2022 in order to bring inflation down to its 2% target range. Most recently, the Fed delivered an anticipated interest rate increase in July. That move brought the federal funds rate to a targeted range of 5.25% to 5.5%, its highest level in 22 years. 
It remains uncertain whether the nation's central bank is ready to ease its monetary policy, despite some positive economic indicators. 
"The decision to raise interest rates suggests the committee is still wary of declaring a mission accomplished on inflation, despite recent economic data indicating long-awaited improvements," NAFCU economist Noah Yosif said in a statement. "By assuming a cautious approach in its forward guidance, the committee reaffirmed its belief that the economy remains capable of withstanding pressure from rising interest rates, and its preference to leave the door open for 'additional policy firming' if the rise in real rates is insufficient to tackle inflation. 
"NAFCU anticipates the August break between meetings will be critical for confirming a consistent erosion in inflation, and will offer indications of how long the committee chooses to maintain its present terminal rate," Yosif added.
But it's possible the Fed will deliver at least one more interest rate spike before the end of 2023.
"The Federal Reserve will continue its aggressive rate stance for the remainder of the year," CoreLogic Chief Economist Selma Hepp said in a statement. "The expectation is to see at least one more rate hike this year as the Fed will likely prefer to keep inflation low for two straight quarters to ensure the monetary policy is achieving its desired impact."
Any increase to the federal funds rate can impact what consumers pay on products like credit cards. If you're having trouble paying off high-interest credit card debt, you could consider paying it down with a personal loan at a lower interest rate. Visit Credible to get your personalized rate in minutes. 
GDP REGISTERS LARGER THAN EXPECTED GAIN IN Q2, QUIETING CONCERNS OF A RECESSION
Have a finance-related question, but don't know who to ask? Email The Credible Money Expert at moneyexpert@credible.com and your question might be answered by Credible in our Money Expert column.