Many parents turn to credit cards to pay for back-to-school shopping: survey
Credit card swipe fees add to what parents will spend this back-to-school shopping season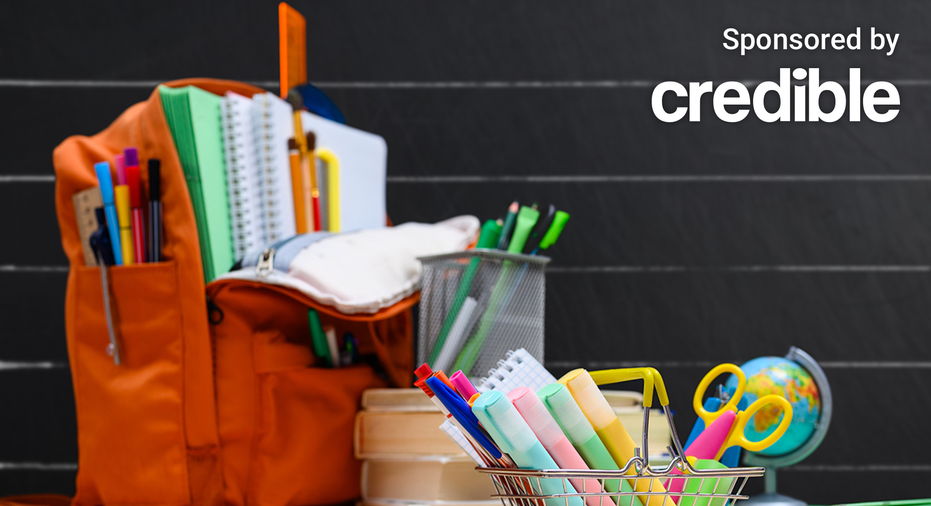 Americans are dealing with rising prices as they begin their back-to-school shopping, and more are turning to credit cards to make ends meet, a recent survey said. 
Almost three-quarters of Americans expect the costs of sending kids back to school this year to be challenging, with most expecting to pay an extra $100 to $200 for supplies, a U.S. News & World Report survey said. 
While most consumers plan to pay cash or use a debit card to cover expenses, many also plan to use a type of credit, including 17.3% who will carry a credit card balance.  
"It's good news that more than 69% plan to use a debit card or cash as part of their payment plan, but it's concerning that so many also say they plan to use a form of credit that could lead to debt if not managed carefully," the report said.
If you are struggling to pay off debt, you could consider using a personal loan to consolidate your payments at a lower interest rate, saving you money each month. Visit Credible to find your personalized interest rate without affecting your credit score.
COST IS THE BIGGEST FACTOR BEHIND WHY A MAJORITY OF AMERICANS DELAY MEDICAL CARE: SURVEY
Credit card swipe fees add to costs
So-called swipe fees, which companies such as Visa or Mastercard charge businesses every time a credit card is used to purchase, may add $3 billion to the price of school and college supplies this year, the Merchants Payments Coalition (MPC) said Thursday.
Swipe fees, which are also known as interchange fees, average 2.24% but can be as high as 4% of the purchase amount, the MPC said in a statement. Swipe fees more than doubled over the past decade, increasing to $22 billion last year. 
A bill proposed last year and reintroduced in June by Sens. Roger Marshall, R-Kan., Richard Durbin, D-Ill. and J.D. Vance, R-Ohio, aims to reduce swipe fees for credit cards by increasing competition within the industry. The bill would require that two competing networks be enabled on a credit card. It would no longer just be Visa or Mastercard – a smaller, competing network would have to be enabled on the card. Independent networks usually charge a lower fee, according to the National Retail Federation (NRF).
"Spending on school supplies helps children get an education, but the biggest lesson parents will learn is that swipe fees are astronomically high and make everything more expensive," MPC Executive Committee member and National Association of Convenience Stores General Counsel Doug Kantor said. "Swipe fees add to the cost of school, whether it's a lunchbox in first grade or a laptop in college. Congress needs to bring competition to the broken swipe fee market."
If you have high-interest debt, a personal loan could help you pay it off at a lower rate. You can check out the Credible marketplace to compare multiple personal loan lenders at once and find the right option for you.
MAJORITY OF HOMEBUYERS SAY THEY HAVE REGRETS: SURVEY
How to budget for rising costs
Back-to-school shopping can be expensive for families, but these tips can help families that plan to use credit cards, save money:
Use Credit card rewards
Families could look into using a credit card that offers cash back or other rewards. Some store cards, for example, offer cash back for purchases made at the store. 
"Furthermore, card issuers typically partner with retailers to offer even more cashback that can really help you maximize your savings," CardRates.com senior editor Ashley Fricker said in a statement. "For instance, American Express has an offer to get $30 back when you spend $150 or more at Levi's (online or in-store) and $120 back when you spend $599 or more at Dell.com with your Amex card."  
Apply for 0% offers
A 0% APR credit card means you won't get charged any interest on your balance for a limited time. That can be useful if you make a big ticket purchase like electronics and need time to finance the purchase. You can put money toward your purchase each month just like you would if you were saving up for it without worrying about interest.
"If you do have a balance at the end of the introductory period, you pay the rest off at your regular purchase APR," U.S. News said. "Credit card rates are fairly high right now, but at least you don't pay deferred interest on these deals."
If you're working on paying down your credit cards, a personal loan could help you consolidate your debt at a lower interest rate and reduce your monthly payments. Visit Credible to find your personalized interest rate without affecting your credit score.
MOST SENIORS REGRET RETIREMENT PLANNING DECISIONS, WANT DO-OVER: SURVEY
Have a finance-related question, but don't know who to ask? Email The Credible Money Expert at moneyexpert@credible.com and your question might be answered by Credible in our Money Expert column.