Health care for a 65-year-old retiree can cost $157,500: Fidelity
Health savings account dollars can be used now and in the future, since a person's account balance carries year over year
A 65-year-old retiring this year can expect to spend an average of $157,500 in health care and medical expenses throughout retirement, according to Fidelity Investments' 22nd annual Retiree Health Care Cost Estimate.
Hope Manion, senior vice president and chief actuary at Fidelity Workplace Consulting, says health care costs can be among the largest expenses for most Americans in retirement.
"This is why we calculate this estimate to help Americans prepare," Manion tells FOX Business. "While this number seems daunting, planning early and saving consistently can put you in a much stronger position to retire how and when you want."
RETIREMENT, 401(K) SAVINGS RISE LED BY BOOMERS, GEN Z
The company announced that Fidelity's 2023 estimate remains the same as last year, due to expected limits to retiree out-of-pocket costs for prescription drugs starting in 2025. 
This is the first time in nearly a decade that the anticipated health care costs for retirees have stayed flat year over year, according to Fidelity. 
The estimate assumes retirees are enrolled in traditional Medicare, which between Medicare Part A and Part B covers expenses such as hospital stays, doctor visits and services, physical therapy, lab tests and more, and in Medicare Part D, which covers prescription drugs, a press statement outlined. 
Manion reports there are three main components that drive Fidelity's estimate: premiums, co-payments and deductibles for medical visits, and out-of-pocket costs for prescription drugs.
"While all three work together towards the overall estimate, we were interested to see that prescription drug out-of-pocket costs represented a far smaller portion of the estimate this year than last year, due to the impact of recent legislation," Manion tells FOX Business.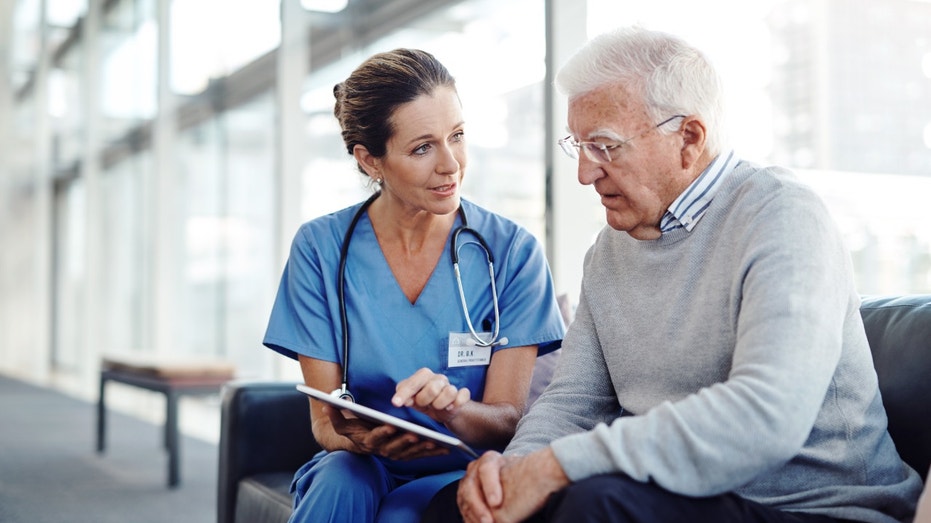 What can Americans do to better prepare?
Experts suggest looking into an HSA, or health savings account, which is a tax-advantaged savings account that can be used to pay for qualifying health expenses.
"While there are several benefits to an HSA, one of the most important is the triple-tax advantage," Manion says. "This means there are no taxes when you put your money in, while you grow your money or when you take it out for qualified medical expenses. It's important to note, though, that in order to contribute to an HSA you must be enrolled in a high-deductible health plan."
Manion shares that Fidelity's research found that HSA owners feel more prepared to cover health care expenses.
"That's no surprise considering HSAs are one of the most tax-efficient ways to save," she continues.
AVERAGE 401(K) ACCOUNT BALANCES TUMBLED LAST YEAR, VANGUARD RESEARCH SHOWS
But many people think that HSAs have a "use it or lose it" function, and that is not the case – HSA dollars can be used now and in the future, since a person's account balance carries year over year, Manion says.
"That means that you can pay for qualified medical expenses tax-free in the near-term while saving any unused money for future health care costs," Manion tells FOX Business. "And, if you take advantage of the HSA's 'secret weapon' – that is, investing your contributions – your savings could potentially grow over time as well."
In fact, she encourages savers to think about HSAs as "retirement savings accounts" as opposed to "health care spending accounts."
"You can line HSAs up right along with your other retirement savings vehicles when thinking about comprehensive retirement planning," adds Manion. 
Learn more about Medicare
It's also critical to make sure you are educated on Medicare, especially for those approaching retirement, says Manion.
"Understanding what the potential costs you may incur in the future and identifying how Medicare can help you prepare even further," she says. 
CLICK HERE TO GET THE FOX BUSINESS APP
According to Manion, many people underestimate and under-plan for the high cost of health care in retirement.
"In fact, research we conducted last year found that Americans believe an average couple retiring in 2022 would spend just $41,000 on health care expenses in retirement," she says. "This is why we publish this estimate every year – to help raise awareness among Americans that their health care costs while on Medicare aren't $0, and they are an important expenditure they need to plan for."