Tax refund would help many Americans pay for holiday spending: survey
Here's when you can expect to get your tax refund in 2023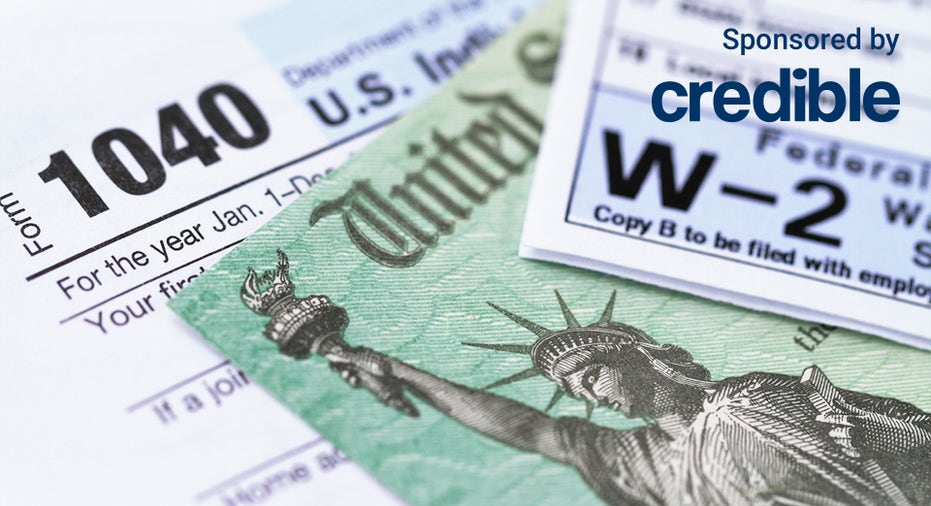 Many Americans said that an advance on their tax refunds could take the sting out of financing holiday spending, a survey said.
Fifty percent of respondents said they "believe an advance on their tax refund would take the weight off their shoulders to help pay for their holiday shopping," according to a Jackson Hewitt Tax Service survey.  
Additionally, 40% of respondents said they were counting on receiving the same refund amount this year as they did last year.
"This year has been hard on our wallets, and we recognize the pressure many hardworking Americans feel during this time of year," Kim Hudson, chief marketing officer at Jackson Hewitt Tax Services, said in a statement. "Our survey found that an overwhelming 77% of people didn't know they can get an advance on their tax refund."
If you're interested in borrowing a personal loan to help you pay off debt at a lower interest rate, you can visit Credible to compare personal loan lenders and find the right option for you.
DECADE-HIGH CREDIT CARD, PERSONAL LOAN DELINQUENCY RATES COMING IN 2023: TRANSUNION
Refunds may be smaller, take longer this year
The Internal Revenue Service announced Jan. 23 as the start of the 2023 tax season. 
Tax filers can begin filing their 2022 returns and expect to receive refunds approximately 2-3 weeks after filing opens for the IRS, according to April Tax Solutions Head of Tax Strategy Jody Padar.
"If you receive an Earned Income Credit (EIC) or certain other credits, those refunds will be released mid-February, even if you file in on opening day," Padar said. 
Tax filers should be aware that the IRS announced several changes that will end pandemic-era tax credits and could reduce the advance amount for many. The average tax refund last year was $3,039, according to the IRS, an increase of over $200 from the prior year primarily due to COVID-19 tax credits.
The Child Tax Credit (CTC), Earned Income Tax Credit (EITC) and Child and Dependent Care Credit are among the affected credits.
Additionally, the tax deadline for all federal tax returns and payments filing is scheduled for April 18, 2023.
If you think you will receive a smaller refund this tax season but have debt you need to pay down, you could consider consolidating it with a personal loan at a lower interest rate, saving you money each month. You can visit Credible to find your personalized interest rate without affecting your credit score.
MORTGAGE RATES DROP AGAIN, CREATING OPPORTUNITY FOR HOMEBUYERS: FREDDIE MAC
Here's how you can access your refund sooner
Even though the IRS typically issues the majority of refunds in fewer than 21 days, several circumstances can influence when a refund is sent, according to Oak View Law Group Certified Public Accountant Levon Galstyan.
"If IRS systems identify a potential error, the return lacks information, or there is a suspicion of identity theft or fraud, some returns may need additional examination and may take longer to process," Galstyan said.
Here are some steps tax filers can take to help get their refund sooner:
Be prepared
You can file your taxes once you get your W2 from your employer. Make sure to gather all required documentation and receipts before filing.
Getting everything together "will help expedite the process," to help you get a refund sooner, Galstyan said. 
Use direct deposit 
Direct deposit is the fastest method for receiving a tax refund when filing electronically. It also eliminates the chance that a refund check may be misplaced, stolen, or reported as undeliverable to the IRS.
Consider a tax refund loan 
Once you've filed your tax return, it is possible to take out a tax refund loan, which allows you to borrow the amount of your expected refund. This could be an option to consider if you need your refund as soon as possible.
If you're struggling to manage your finances, you could consider paying off high-interest debt with a personal loan at a lower interest rate. You can visit Credible to compare personal loan lenders and find the right option for you.
INFLATION DROPS IN DECEMBER – WILL THE FED SLOW INTEREST RATE HIKES IN 2023?
Have a finance-related question, but don't know who to ask? Email The Credible Money Expert at moneyexpert@credible.com and your question might be answered by Credible in our Money Expert column.