Why a United Auto Workers strike could mean higher car and insurance costs
Rising gas prices push more costs higher for drivers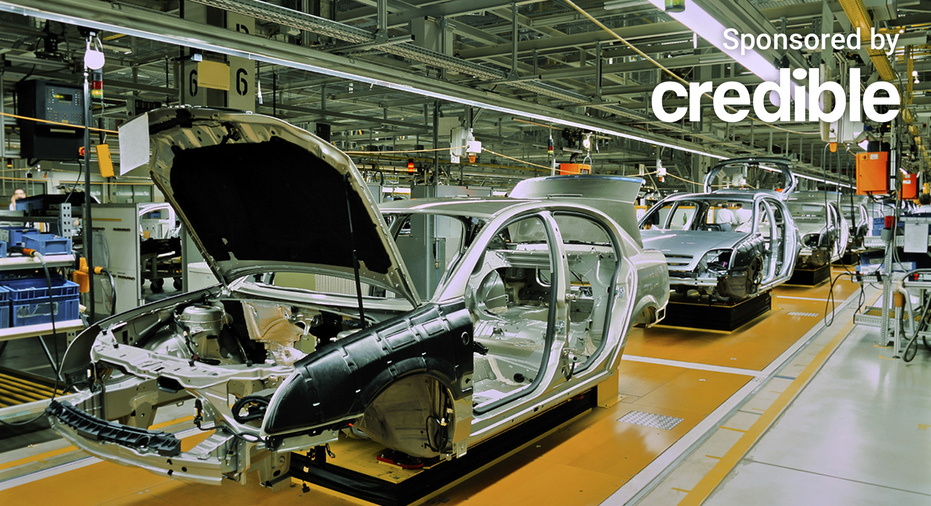 With no deal for a new four-year contract, the United Auto Workers (UAW) union began their strike at three plants owned by the Big Three automakers – General Motors, Ford and Stellantis on Friday.
The workers are striking at a GM plant in Wentzville, Missouri; a Stellantis plant in Toledo, Ohio; and a Ford plant in Wayne, Michigan. The main contention between the two sides is higher pay, with UAW President Shawn Fain stating that the union is seeking a more than 40% general pay raise for rank-and-file members over four years.
A recent analysis by consulting firm Anderson Economic Group (AEG) estimated that a strike on all three automakers by 143,000 United Auto Workers (UAW) members could result in a total economic loss of more than $5 billion after 10 full days.
For consumers, the strike could mean paying more for new cars, according to the Washington Post. Car prices surged 34% following the pandemic and reached a record high of roughly $51,800 in August, AI-assisted automotive shopping app CoPilot told The Washington Post. The average used car was $31,000.
Some popular models already in relatively short supply, which include GM's Tahoe and Yukon SUVs, would be harder to find if the strike goes into the longer term, according to Pat Ryan, chief executive of CoPilot. This could end up costing consumers more if dealers charge more than the sticker price.
"Selection is going to get worse, prices are going to get higher if there is a strike, but it's going to be focused on the most popular brands and models," Ryan told The Washington Post. "It's not going to be everywhere."  
Automakers have been slowly building up vehicle inventory since the pandemic. However, supply is still about one-fifth of what was available in 2019, so a strike would likely affect dealers and customers much sooner, according to AEG Vice President Tyler Theile.
"Consumer and dealer losses are typically somewhat insulated in the event of a very short strike," Theile said. "However, with current inventories hovering around only 55 days, the industry looks different than it did during the last UAW strike."  
Used vehicle prices are not likely to be spared either as they tie directly to new vehicle production and availability, according to Navy Federal Credit Union Corporate Economist Robert Frick.
"We have just begun to see prices for both new and used vehicles fall, but they're not falling quickly," Frick said. "This decline is fragile, and much of it depends on slowly increasing production from automakers. So disruptions in production will likely halt that decline, and probably reverse it."
One way to take control of car ownership costs is by making sure you pay for the insurance you need. Shopping around for new auto insurance could help lower your costs. The Credible marketplace can help you compare multiple providers and find your personalized rate in minutes without affecting your credit score.
SHOPPING ON AN IMPULSE IS DERAILING AMERICAN BUDGETS – HERE'S HOW TO TAKE CONTROL
Ripple effects could be felt in car insurance prices 
Higher car prices are part of why car insurance premiums have soared. For starters, more expensive cars cost more to repair and replace. A prolonged UAW strike could mean insurers would face another wave of rising costs driven by higher car prices, according to Frick.
"Higher auto insurance rates have been correlated to higher auto prices, as higher prices make claims more expensive, causing insurers to raise premiums," Frick said. "So we should expect insurance rates to be affected."
That's bad news for consumers already struggling with skyrocketing auto insurance costs. Car insurance rates had already risen 17% in the first six months of 2023 and prices are set to soar another 4% by year-end, according to the Insurify survey.
"With the UAW now on strike, we anticipate the ripple effect will impact auto premiums for customers across the United States," Todd Greenbaum, Input 1 president and CEO, said. "An inventory and parts shortage, and a production halt, could drive up the price of vehicles and the cost of repairs and replacements, directly resulting in rising claims costs that lead to higher premiums customers pay."
How profound that impact will be on premiums will depend on the duration of the strike, Greenbaum said.

"Should a resolution be reached in four to six weeks, consumers may not see a significant change, however, if the strike lasts longer or impacts a greater segment of the automobile industry, it will contribute to a continued increase in used car prices," Greenbaum said. "This will lead to more expensive claims as insurers are required to cover the fair market value of a car if it is in an event where it's deemed a total loss."
If you want to save money on your car costs, you could consider changing your auto insurance provider for a lower monthly rate. You can use Credible's free tools to shop around and lower your car insurance premium today.
GEN ZERS CREDIT CARD BALANCES GROW THE FASTEST: TRANSUNION
Gas prices also on the rise 
Rising prices at the gas pump, which soared by more than 10% in August, significantly contributed to the monthly increase in inflation last month. And surging oil prices, which climbed to $90 a barrel last week, have continued to pressure gas prices, according to the latest report from AAA.   
However, drivers could see some relief as prices as producers switch over from the more expensive summer blend gas to the cheaper winter blend. Summer-blend fuel costs more than winter-blend fuel primarily because the production process takes longer. Also, prices will likely dip as the U.S. moves out of the key driving season.
With gas prices rising, you may find some savings by shopping for cheaper auto insurance premiums. Credible can help you compare multiple insurance quotes free of charge.
MANY STUDENT LOAN BORROWERS STILL CLUELESS ABOUT REPAYMENT OPTIONS: SURVEY
Have a finance-related question, but don't know who to ask? Email The Credible Money Expert at moneyexpert@credible.com and your question might be answered by Credible in our Money Expert column.