Biden accuses Big Three automakers of making 'record profits' that must be 'shared fairly' with UAW strikers
Biden called for a 'fair' deal that would let the Big Three automakers share 'record profits' with workers
President Biden on Friday delivered brief remarks on the United Auto Workers strike that began Thursday night, accusing auto companies of refusing to share their profits with workers.
In a televised statement, Biden said the Big Three automakers were making "record profits" that "have not been shared fairly, in my view, with workers." 
"No one wants a strike," Biden said. "But I respect workers' right to use their options under the collective bargaining system. Autoworkers sacrificed so much to keep the industry alive and strong, especially through the economic crisis and the pandemic. Workers deserve a fair share of the benefits they helped create for an enterprise."
The president spoke for fewer than five minutes and did not take questions from the press. He called for the strike to be resolved with "record contracts" for UAW workers to match "record corporate profits." 
UAW STRIKES AT GM, FORD, STELLANTIS PLANTS AFTER NO NEW CONTRACT REACHED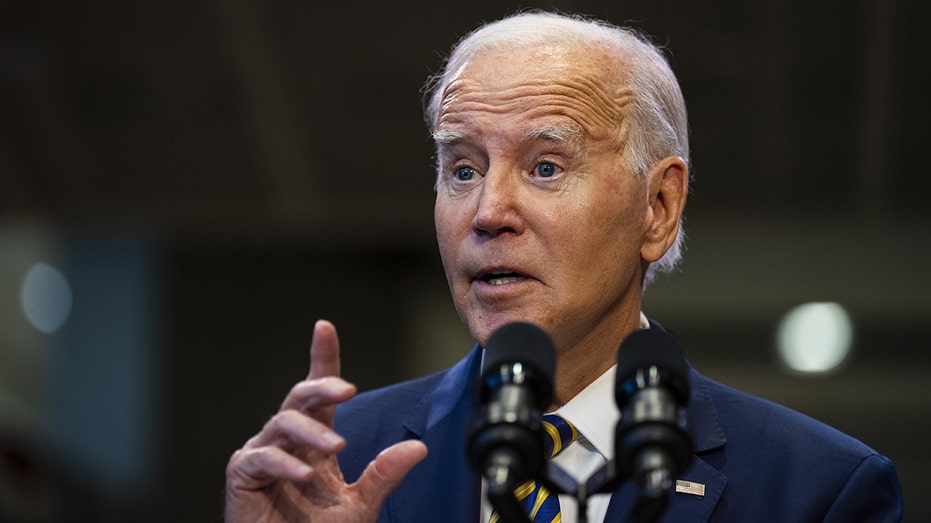 "The bottom line is that autoworkers helped create America's middle class. They deserve a contract that sustains them in the middle class," Biden said. 
UAW workers went on strike at three plants owned by the Big Three automakers — General Motors, Ford and Stellantis — after the two sides did not reach a new labor deal on Thursday night.
Ticker
Security
Last
Change
Change %
GM
GENERAL MOTORS CO.
28.89
+0.39
+1.35%
F
FORD MOTOR CO.
10.38
+0.06
+0.53%
STLA
STELLANTIS NV
20.51
+0.09
+0.42%
The workers are striking at a GM plant in Wentzville, Missouri; a Stellantis plant in Toledo, Ohio; and a Ford plant in Wayne, Michigan. Plants that were not called upon to strike will work without a contract, UAW President Shawn Fain said.
FORD, GM, STELLANTIS DEALERSHIP BRACE FOR POTENTIAL UAW STRIKE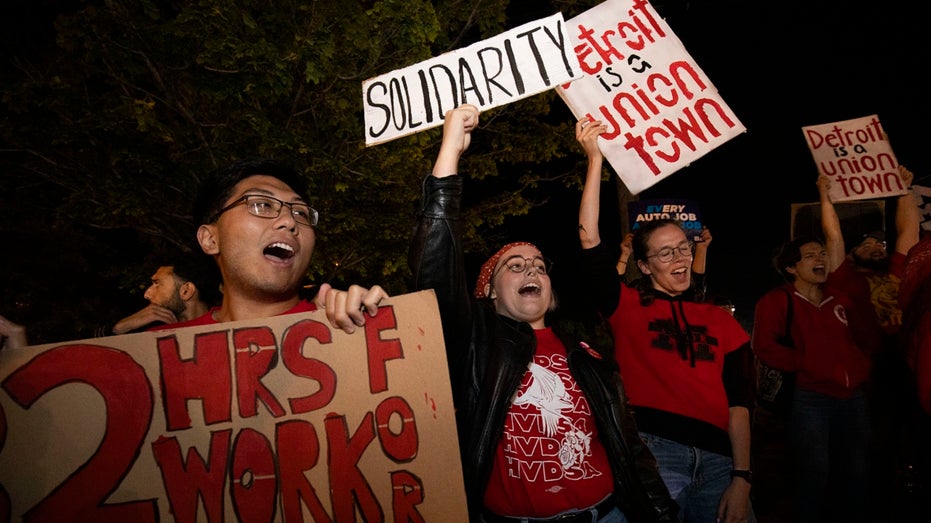 "The UAW Stand Up Strike begins at all three of the Big Three," the union said in a post on X, formerly known as Twitter, shortly after midnight on Friday.
The main point of contention between the two sides is higher pay, with Fain saying the union is seeking a more than 40% general pay raise for rank-and-file members over four years.
The union is also pushing for making all temporary workers at the automakers permanent, cost-of-living adjustments, increases in pension benefits for current retirees and restoring pensions for new hires, among other benefits. 
Experts say the autoworkers strike could cost the U.S. economy billions of dollars. A report by the Anderson Economic Group, a Michigan-based think tank, estimated economic losses from a 10-day work stoppage could cost about $5.6 billion. 
LOOMING UAW STRIKE COULD COST US ECONOMY MORE THAN $5B IN JUST 10 DAYS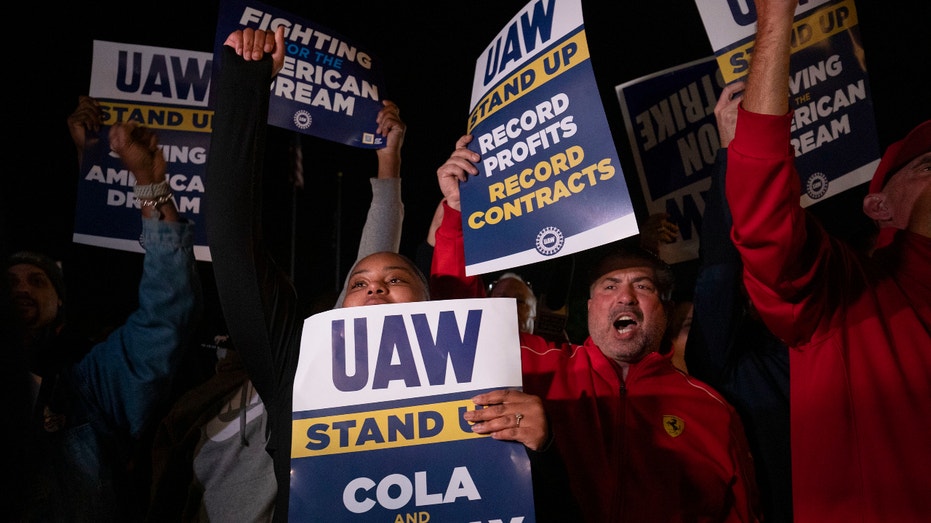 Biden, who predicted over the Labor Day weekend that the union will not strike, spoke to union and automaker leaders on Thursday. On Wednesday, a White House economic adviser said the president wanted both sides to work around the clock to avoid a strike.
The Biden administration is also discussing emergency aid to protect smaller firms that supply U.S. auto manufacturers, a source with knowledge of the matter said on Thursday.
Biden has repeatedly referred to himself as the most "pro-union" president ever elected, while his administration has worked to resolve several high-profile labor disputes in the auto, airline, rail and postal industries. 
GET FOX BUSINESS ON THE GO BY CLICKING HERE
Labor unions like UAW are a major Democratic Party constituency that Biden is seeking to unite behind his campaign to win Rust Belt swing states like Michigan and Pennsylvania, which were key to his 2020 victory over former President Donald Trump. 
UAW workers will hold a rally on Friday at 4 p.m. ET.
FOX Business' Sarah Rumpf-Whitten and Megan Henney and Reuters contributed to this report.