GOP rep calls McCarthy 'absolutely insane' for pushing short-term shutdown resolution
Rep. Matt Rosendale says Republicans must deliver 12 appropriations bills
One House Republican has doubled down on his stance that he won't vote for any government resolutions or omnibus bills to avoid a shutdown.
"Why would I vote to extend spending at levels that I voted against, or the policies that I voted against?" Rep. Matt Rosendale, R-Mont., said on "Mornings with Maria" Monday. "Republicans in the House of Representatives voted against spending at these levels. And for Leader McCarthy, Speaker McCarthy, to come out now and say that he wants us to extend that is absolutely insane."
On "Sunday Morning Futures," House Speaker Kevin McCarthy, R-Calif., told host Maria Bartiromo that Congress will most likely not have enough time to pass the 12 appropriations bills aimed at government spending levels and legislative priorities.
"I would actually like to have a short-term [continuing resolution], only to make our argument stronger," McCarthy said on Sunday. "If we shut down, all of government shuts it down, investigations and everything else. It hurts the American public."
BERNIE SANDERS SCOLDS DEMS FOR LOSING WORKING CLASS, MINORITY VOTERS TO G.O.P.: 'FRANKLY, IT IS ABSURD'
Rosendale countered that McCarthy has known about the appropriations bills for nine months, calling the push to a resolution a "failure of leadership."

"The American people expect us to deliver the appropriation bills, the 12 bills that lay out clearly, transparently, what we're going to be funding government at, what levels we're going to fund it at so that we have the ability to remove spending on all of the D.E.I. standards that the Biden administration put in there, the ESG standards that are killing our economy. Those things must be removed," Rosendale said.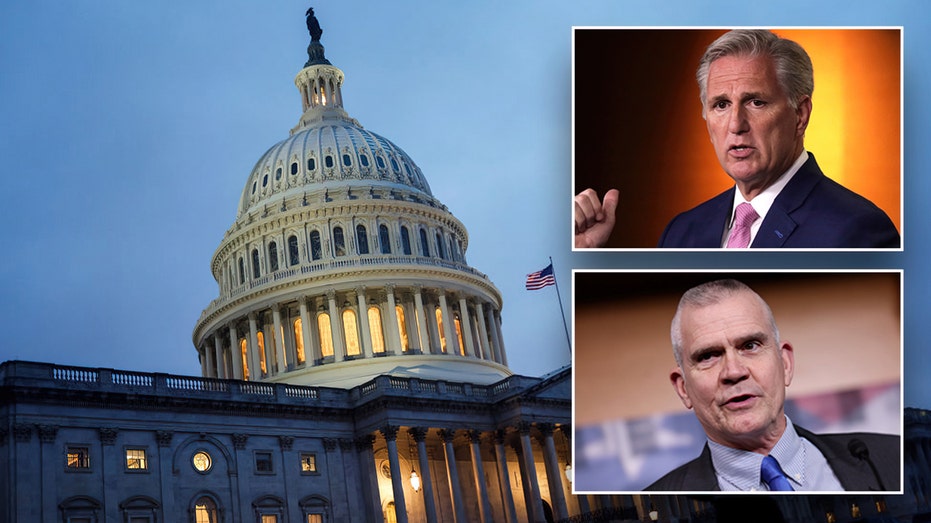 "Passing a continuing resolution does nothing more but set the table for an omnibus bill to come over from Chuck Schumer and Mitch McConnell," he continued. "And that is the definition of business as usual, and that's not what people sent me up here to do."
The lawmaker also refuted McCarthy's claim that "all" of the government will shut down, arguing it's only 15% of government functions.
"We are not going to be distracted by a shiny object saying: if you don't get this continuing resolution passed, we won't be able to pursue the impeachment inquiry. That's nonsense," Rosendale said.
"Whether it is negligence or malice, don't know," he added. "All I can tell you is what the results are. We don't have the appropriation bills that I'm willing to spend the time and effort that's necessary in order to get those bills through. Leadership has not allowed that to take place."
Rosendale further called on the Speaker of the House to take responsibility for "not doing his job."
GET FOX BUSINESS ON THE GO BY CLICKING HERE
"We needed to pass a balanced budget and we accomplished that. Why has leadership not put the pressure on the Appropriations committees to make sure that we have the ability to deliver those bills?" he pressed. "I participated. I will do my part. It's time for them to do their part."
Congress will almost certainly need to pass a continuing resolution to temporarily fund the government in the coming weeks. Lawmakers are nowhere near passing all 12 of the yearly appropriations bills, and they only have until the end of September before government funding runs out. The Senate is out until Sept. 5 and the House is out until Sept. 12, leaving little time to push through all of that legislation before a possible shutdown.
Fox News' Tyler Olson contributed to this report.