Rand Paul rips Biden-McCarthy debt deal: 'Nothing conservative' about it
The Kentucky senator unveils his plan to produce economic 'productivity and recovery like you've never seen'
Kentucky Senator Rand Paul slammed the Biden-McCarthy debt deal on Thursday on the heels of the House passing the plan, inching Congress closer to allow more borrowing just days before the government is expected to run out of money.
Paul argued that the plan offers "nothing conservative" in solving the debt crisis and announced his own alternative.
"It allows unlimited borrowing for two years beyond the next presidential election," he stressed on FOX Business' "Mornings with Maria." "They can spend as much money as they can possibly spend, borrow as much money as they want. No limits on borrowing for two years – nothing conservative about that."
RAND PAUL INTRODUCES ALTERNATIVE TO BIDEN-MCCARTHY DEBT BILL: 'GET OUR FISCAL HOUSE IN ORDER'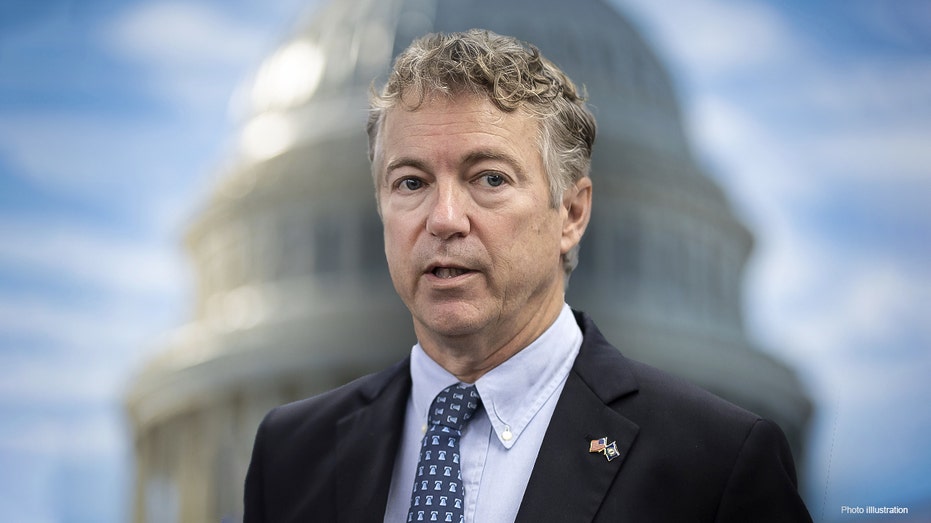 The bill passed Wednesday in a 314-117 vote that saw majorities in both parties support the agreement, which also meets the GOP demand of cutting nondefense discretionary spending over the next two years. Republicans supported the bill by a 149-71 margin, and Democrats supported it 165-46. The legislation now heads to the Senate. 
Paul highlighted the "big mistake" with the bill brokered by President Biden and House Speaker Kevin McCarthy. 
DEBT CEILING DEAL INCLUDES NEW WORK REQUIREMENTS FOR SNAP: HOW THEY WORK
"There will be no more negotiation for the next two years," he said. "They'll just shovel the money out and nobody will talk about fiscal responsibility."
According to Sen. Paul, some experts have estimated the government could borrow upwards of $4 trillion over the next two years under the plan.  
The final agreement reached over the weekend suspends the debt limit with no cap through Jan. 1, 2025, while also cutting non-defense spending to near fiscal 2022 levels, capping growth at 1% for the next two years and proposing non-mandatory caps for the four years after. It also claws back some money aimed at the Internal Revenue Service and some unspent COVID-19 pandemic funds.
"That's really the part of the problem with the way the House approached this and the way that McCarthy approached this. They took mandatory spending off the table," Paul said. 
"Mandatory spending is two-thirds of government spending. The remaining third is half military and half other welfare programs," he added. "So they also took military off the table. So they took 66% off the table with mandatory. Then they took another 16% off the table with [the] military. So what they did is they tried to do fiscal responsibility by only looking at 16% of the budget."
"If we did get to balance, I think you'd have an economic productivity and recovery like you've never seen in our country." 
Sen. Paul's proposed amendment offers what he argues is a "conservative alternative" to the House bill. 
His "penny plan" amendment would balance the budget over five years by implementing a 5% cut each year over five years. It would also "replace caps on discretionary spending with caps on total on-budgeting spending."
"If we did get to balance, I think you'd have an economic productivity and recovery like you've never seen in our country," he argued.
The Kentucky senator's plan would also borrow $500 billion requiring lawmakers to negotiate for more once spent. In the first year, the plan aims to reduce spending by $303 billion and reduce on-budget outlays from $5.1 trillion to $4.8 trillion.
"In my plan, we look at smaller numbers and that's why the penny plan used to work," Sen. Paul reasoned. "It was a 1% cut across the entire board. Now it's a 5% cut, but it's across everything. And I think you can even do it to things that people want and make them more efficient."
CLICK HERE TO READ MORE ON FOX BUSINESS
Although Sen. Paul was not optimistic his amendment would get enough votes in the Senate, he shared that it is important to present the option so that the American people could see another means to reducing government spending. 
"If you ask people in my state of Kentucky or you ask conservatives that watch your program, would you be in favor of balancing the budget in five years and putting those kind of spending caps in exchange for raising the debt ceiling? I think the vast majority, I think two-thirds of the people in my state would respond that way. And I venture to say two-thirds of conservatives or more would say we really need significant cuts… that means cuts enough to balance the budget, not cut enough to let the budget continue to rise," he said.
"Under the Biden-McCarthy plan, spending will rise every year. There will be no cut in spending," he concluded. 
FOX Business' Anders Hagstrom and Fox News' Elizabeth Elkind contributed to this report.