Luxury condos make Florida history with state's largest construction loan in post-rate hike era
Ritz-Carlton Residences in Palm Beach Gardens secures $340 million construction loan for 2025 open
Before sealing a $340 million construction deal, one Florida developer and New York investor didn't know they were making Palm Beach business history.
"We didn't know it was going to be record-breaking, but we found out after the fact," Catalfumo Companies founder Dan Catalfumo told Fox News Digital. "Our team worked extremely hard. We had all hands on deck for the size of this loan."
Overlooking the Palm Beach Gardens intracoastal waterway sits a sprawling 11 acres that will be transformed into The Ritz-Carlton Residences' newest luxury mid-rise condominiums.
New-York based Madison Realty Capital provided Catalfumo with a $340 million loan, the largest in Florida since the Federal Reserve began hiking interest rates, according to a press release.
SOUTH FLORIDA HEATS UP WITH 'UNPRECEDENTED' GROWTH, TRANSFORMS INTO 'MOST DYNAMIC CITY IN THE WORLD'
"We have significant experience transacting in South Florida and will continue to look at projects with strong sponsors, strong pre-sales, and well-thought-out budgets," Josh Zegen, managing principal and co-founder of Madison Realty Capital, also told Fox News Digital. "There continues to be demand, but we are making sure we are picking the right projects that have had early success that can be delivered by experienced sponsors."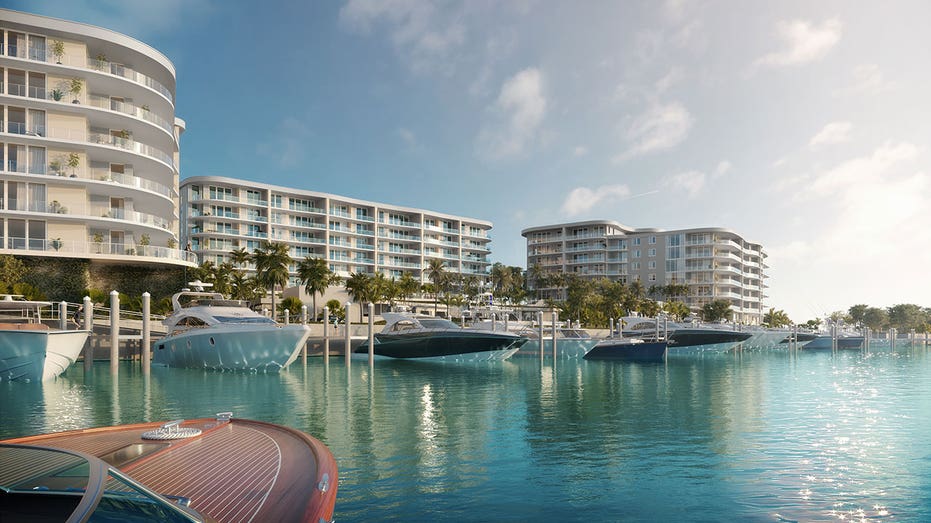 The developer detailed how these luxury condos set themselves apart from others in the area – panoramic balcony views, a private marina, putting green, park, 16 penthouses, massive infinity pool, and parking spots each equipped with EV chargers.
"I don't know if there's any more boxes that I can check," Catalfumo said. "It is so unique because they're really like homes in the sky because they're really not condominiums."
After opening sales in February, the luxury residential building is reportedly approaching $100 million in home sales. Each unit bid starts at $4 million, with an expected move-in date of Q3 2025.
Interested buyers come from demographics "all over the board," the developer noted.
"It's been people moving from older, large homes that are 20 to 25 years old and don't want to go through the renovation project, and then out-of-state buyers that are coming in and buying a brand-new product," Catalfumo explained.
The residential project lends itself "perfectly" to the office and business growth Palm Beach has had since the pandemic, the builder pointed out, as well as South Florida flourishing as the "Wall Street of the South."
"There really is no place for people to live that are CEOs or presidents, other than a handful of condominiums that are full. So they automatically gravitate to Palm Beach Gardens, which is the golf capital of the world. And for them, this is a brand-new building," Catalfumo said.
"New Yorkers and others from northern cities continue to migrate to Florida and expect higher quality living options than what has historically been available," Zegen added. "Working with The Ritz-Carlton will ensure that quality is met and appeals to full-time residents as well as those splitting time between Florida and northern cities."
Throughout this month, Catalfumo's team will work to build the final marina docks and await the building's sheet pile installation on May 16. But both the developer and lender look most forward to seeing families and "smiles on their faces" as they move into their new home.
GET FOX BUSINESS ON THE GO BY CLICKING HERE
"Literally every time we do a brand-new project and we have our grand opening, we have every customer come in and they just have smiles," Catalfumo said.
"We think the market has continued growth ahead," Zegen said, "so long as infrastructure, most importantly transportation and schools, can handle the influx of new residents."