'Shark Tank' star warns real estate doom loop has 'not improved'
The commercial real estate "collapse" is expected to bring investors, small businesses more economic woes
The commercial real estate industry is on the brink of "collapse," according to one "Shark Tank" star. 
O'Leary Ventures CEO Kevin O'Leary explained on "Kudlow" Friday that the doom loop facing commercial real estate "has not improved."
"What's unique about this situation, and I'll just lay it out, many of these are office spaces that are in sub-grade markets... But even in cities like Boston, you find lots of vacancies, you know, up to 40% of buildings," O'Leary said.
REMOTE WORK COULD WIPE OUT $800B FROM OFFICE BUILDING VALUE BY 2030
In cities across the nation, office buildings in particular have been largely vacant since COVID lockdowns, with companies relying more on remote work or hybrid models. The demand for office space has only continued to shrink since 2020. 
A study published by McKinsey in July examined real estate in nine "superstar" cities – San Francisco, New York, Houston, London, Paris, Munich, Tokyo, Beijing and Shanghai – and estimated that office attendance is currently about 30% lower than the typical pre-pandemic level seen in 2019.
Demand may stir back to life in coming years, but the consulting firm projected that attendance will still be about 13% lower in 2030 compared to before the pandemic began. 
COMMERCIAL REAL ESTATE CRASH STILL LOOMING OVER US ECONOMY
The massive decline in demand will ultimately drive down property value. On the average, the total value of office space in the nine cities could plummet by 26% from 2019 to 2030 – or a decline of roughly $800 billion. 
"Most of these cannot be used again as offices because the economy has changed. No one saw this coming, but up to 40% of people that work in small businesses don't return to offices anymore. So we have to repurpose this. You have to take an old office and turn it into a climate-controlled storage or a condominium. But in cities like New York, where it's decimated in those double buildings, they're just empty. You can't do that without zoning changes. And policy there is very difficult."
O'Leary even doubted whether rebuilding or repurposing commercial spaces would be feasible given what he estimates would be a "$1,000,000,000,000 in aggregate" costs.
 "There's big problems, and it's going to manifest itself in these regionals over the next 36 months," he warned.
The crisis facing commercial spaces extends beyond just proprieties like office spaces. O'Leary warned the collapse looming in commercial real estate will extend to regional banks.
"The challenge is, in every other real estate cycle, when you have a correction, which is about to happen here because of rising rates, and we've got to refinance these buildings and many of them have no equity left in them. So these banks are going to fail because up to 40% of their portfolio, I'm talking regional banks here, are in commercial real estate."
FED INCREASING DEMANDS FOR CORRECTIVE ACTIONS BY REGIONAL BANKS: REPORT
Small and regional banks are the biggest source of credit to the $20 trillion commercial real estate market, holding about 80% of the sector's outstanding debt. Regional banks were just at the epicenter of the upheaval within the financial sector, and there are concerns that the turmoil could make lending standards drastically more restrictive.
During a credit crunch, banks significantly raise their lending standards, making it difficult for businesses or households to get loans. Borrowers may have to agree to more stringent terms like high interest rates as banks try to reduce the financial risk on their end.
Even before the collapse of Silicon Valley Bank and Signature Bank in early March, the commercial real estate market was struggling with a number of challenges, including higher interest rates and waning demand for office space as more companies allow employees to work from home.
O'Leary also warned the commercial real estate "chaos" could have a worse ripple effect on small business beyond the housing industry. 
"The spin-off, which is causing chaos right now, is those loan books and those regional banks," he pointed out adding that "they're not making loans." 
REAL ESTATE EXPERTS SAY 'CHALLENGES; TO BUYERS AND SELLERS ARE THE 'GREATEST EVER'
The "Shark Tank" star also pointed to a recent pause in the employee retention credit. The IRS's decision last week to pause accepting claims for refunds was largely due to concerns over fraud in the program.
"I would tell everybody that every government program that involves an application has fraud in it. But 90 plus percent of the people that apply for this are good men and women and small businesses in America. Maybe it's as high as 95%. And so the IRS, because they're concerned, and I understand their concern for the 5% or whatever it is that are filing these fraudulent claims, they shut the whole thing down for three months."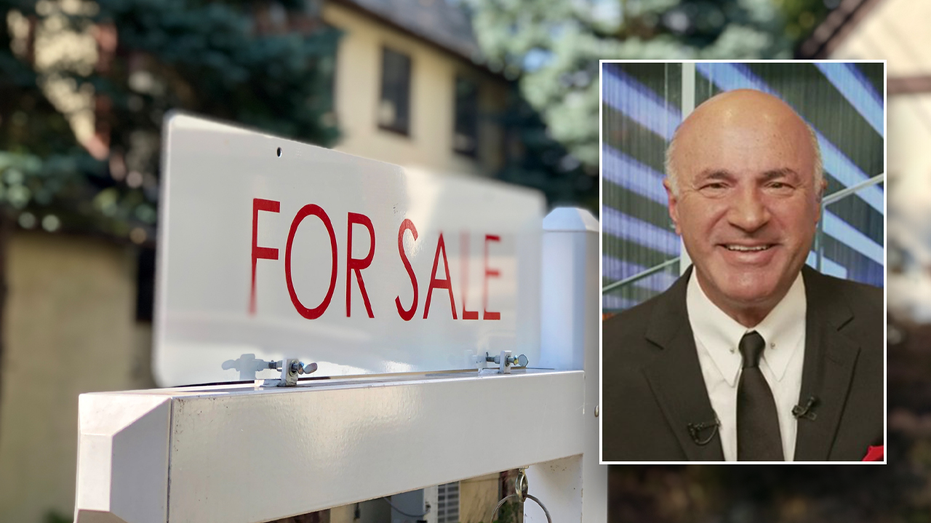 The employee retention credit was a COVID-era tax credit designed to help small businesses keep employees and maintain at least partial operation during the pandemic. While the credit ended in October 2021, businesses were allowed to apply retroactively until the IRS pause went into effect. 
Since the program began, the IRS has received 3.6 million claims; however, among those claims are a growing number of applications considered fraudulent. 
 CLICK HERE TO READ MORE ON FOX BUSINESS
While the commercial real estate industry has not hit rock bottom, O'Leary warns the worst is yet to come.
"Another one these are companies you've never heard of, but they're alive because of the employee retention credit. These programs are not aligned. They're not in sync. So we get the pressure at the regional banks, commercial real estate collapse and small business not getting any capital. This is all bad news."
FOX Business' Megan Henney contributed to this report.