Ex-Yankees great hurls fastball at Nike, Bud for putting 'really big damper' on sports: 'Screwed up big time'
Wells tapes up Nike logo at Yankees Old Timers' Day, criticizes Bud Light
Former Major League Baseball pitcher and New York Yankees legend David Wells has made it clear that he's not afraid of cancel culture.
"When I played the game, when I came up, none of this even was an issue," Wells said on "Mornings with Maria" Tuesday. "And now with these companies that are coming out and jumping on board and trying to change the game and put a lot of politics in the game, to me, I think it's confusing a lot of the players because they're afraid to speak up."
"But you know what? If I was making 30, 40 million a year and it's guaranteed, I'm going to speak out, speak your mind," he continued. "But to me, these companies are putting a really big damper, I think, on the game of sports because of the political stance that they're putting on these guys."
Wells was part of the Yankees 1998 world championship team, where in that season, he pitched the second perfect game in franchise history. 
He told host Maria Bartiromo how "there's no question about" how things have changed in the sports marketing landscape. Recently, the former MLB pitcher made headlines after he covered up the Nike logo on his Yankees jersey at the team's Old Timers' Day game.
BUD LIGHT FALLS FURTHER, MODELO EXTENDS LEAD AS BEST-SELLING U.S. BEER
The Yankees great drew parallels to Nike's support of Colin Kaepernick's anti-anthem stance to Bud Light's partnership with transgender influencer Dylan Mulvaney.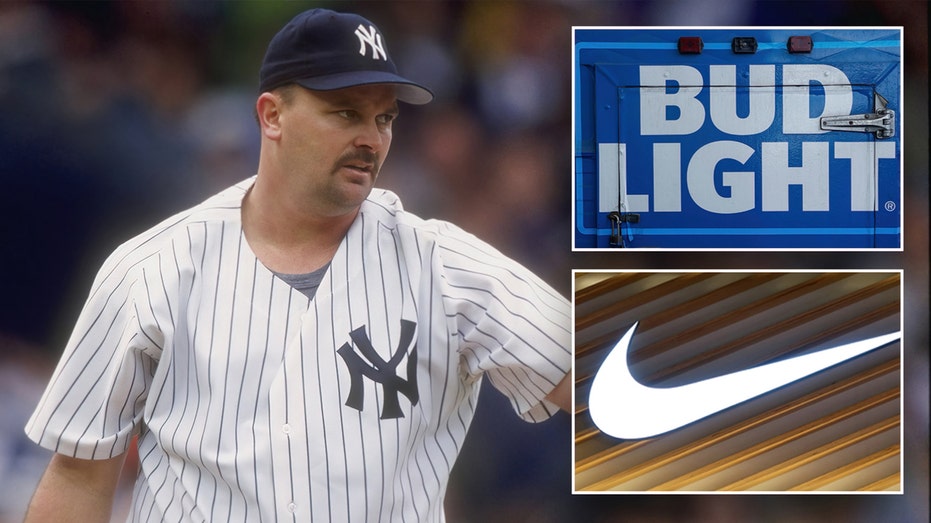 "Be what you want to be. I don't have a problem if you want to be transgender, you want to be this, you want to be that, that is fine. But when you're going to go in marketing and then you're going to push that narrative and you're going to push those values towards the other side and," Wells clarified, "neglect the everyday consumer. A lot of people drink Bud Light, and to me, it's just the wrong message to send."
"They're sending the wrong message. They're doing it wrong," he added. "You're going to lose the customers, which Bud Light already did… But to me, Bud Light, they screwed up big time and they've lost it."
He further voiced support for outspoken activists in sports like former University of Kentucky swimmer Riley Gaines, who has embarked on a media and policy endeavor to protect the integrity of women-only competitions.
"She is so spot on when it comes to transgender in sport, men playing women's sports. You just you can't do that. It's not right, and it's dangerous," Wells said. "If I was to say: I'm going to switch over and I'm going to go play women's sports, I'm going to hurt somebody, especially if I'm throwing 95… they need to start their own leagues, if that's the case, if that's what they want to do, and make it fair."
Wells is also the founder of veteran-based Perfect 33 Foundation. He said his appreciation for U.S. military men and women is what inspired him to tape up the Nike logo on his jersey on Sept. 9.
GET FOX BUSINESS ON THE GO BY CLICKING HERE
"When Kaepernick took the knee against our national anthem, and I'm a huge, huge military supporter, that's what my foundation is all about, and for Nike to jump on board and reward this guy for that and the things that are going on, I told myself if I was playing in today's game," the former Yankees pitcher said, "and we had Nike jersey, I'd tape it up. I'd cut a hole in it."
Nike and Bud Light parent company Anheuser-Busch did not respond to FOX News Digital's request for comment.