Power broker Jimmy Dunne helped spark negotiations in PGA, LIV merger
Dunne is a member at Augusta National, Shinnecock Hills
The PGA Tour's commissioner Jay Monahan and Yasir Al-Rumayyan announced in an interview that the PGA Tour and the LIV Golf league was merging on June 6, 2023.
Jimmy Dunne, a power broker in golf and on Wall Street, was allegedly instrumental in bringing the two league heads to the negotiating table.
Dunne told PGA golfer Rory McElroy about the merger about four hours before it was announced, and ran him through the details.
PGA Tour Commissioner Jay Monahan and Yasir Al-Rumayyan, the governor of Saudi Arabia's sovereign wealth fund, sat beside each other during a CNBC interview wearing comfortable smiles of longtime friends.
That was one of many surprises.
They announced a blockbuster commercial partnership that seemed so unfathomable only a few months ago because they were adversaries in the bitter antitrust lawsuit initiated by Saudi-funded LIV Golf — and because two months ago, they had never even met.
What brought them together in a roundabout way was Monahan appointing Jimmy Dunne — a power broker in golf and on Wall Street with a personal connection to the Sept. 11 terrorist attacks — to the PGA Tour board of directors last fall.
It was Dunne and Ed Herlihy, chairman of the PGA Tour policy board, whom Monahan leaned on to set his first meeting with Al-Rumayyan a short time after the Masters.
They were the only PGA Tour principals involved in the deal that joins the commercial business of the PGA Tour, European tour and Saudi Arabia's Public Investment Fund in a for-profit entity that for now goes by "Newco" — new company.
Part of the deal is ending all litigation.
PGA TOUR ANNOUNCES LANDMARK MERGER WITH SAUDI-BACKED LIV GOLF
"I came to the table not being comfortable with criticism why we didn't meet with them," Dunne said. "If you look at what happened (with LIV), we never would have done anything they did. We never would have hired Greg Norman. We never would have him flying to an event in a a parachute. We never would have done so many of these things.
"What does that tell me? That I have no idea what they're thinking," Dunne said. "And when you have no idea what an adversary is thinking, I want to ask them, not their lawyers. I want to ask them directly."
Herlihy, a New York attorney, is the chairman of the PGA Tour board, and for nearly 40 years a partner at Wachtell, Lipton, Rose & Katz. His focus is mergers and acquisitions of banks and financial institutions.
"The first conversation that I was not a part of was what was the most important conversation because of the position I've been in and what we've been trying to do with our tour," Monahan said. "I wanted to rely heavily on those two fine gentlemen to have that first conversation.
"But when they came back and said it was a positive conversation and that I should have a follow-up meeting, I think that's when things started to develop."
That Dunne would be arranging the meeting is telling.
Only a year ago, when LIV Golf held its first 54-hole event outside London, Monahan was interviewed on CBS during the Canadian Open. He was asked about the Sept. 11 terrorist attacks and the links to Saudi Arabia.
"I would ask any player who left (for LIV), or any player that would ever consider leaving, have you ever had to apologize for being a member of the PGA Tour?" Monahan said.
For Dunne, it's deeply personal.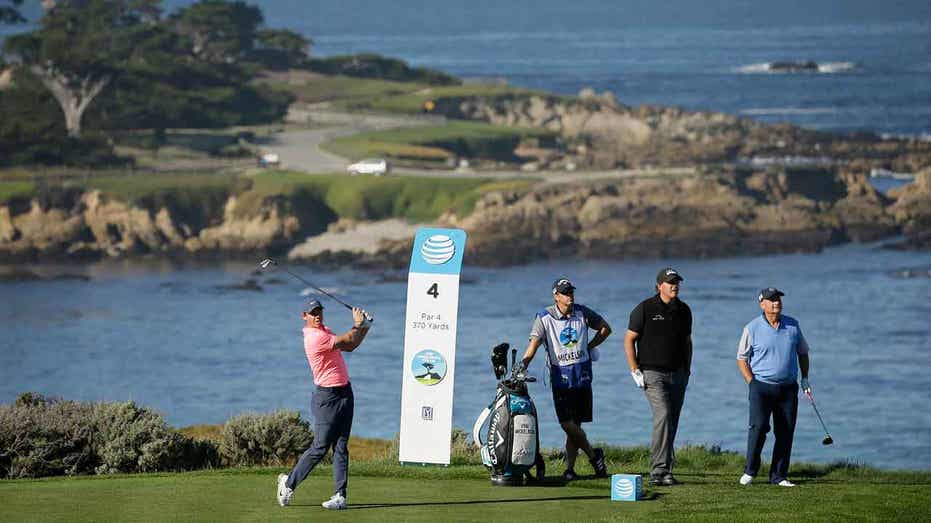 Dunne is a good golfer, a member at Augusta National and Shinnecock Hills, the president of Seminole Golf Club. During a phone interview Wednesday, Jon Rahm and Lee Trevino were among those trying to reach him. Justin Thomas and Rickie Fowler have stayed at his house.
He began working at Bear Stearns before co-founding the investment banking firm of Sandler O'Neill & Partners (now Piper Sandler). The firm formerly was located on the 104th floor in the south tower of the World Trade Center.
Dunne was trying to qualify for the U.S. Mid-Amateur on Sept. 11, 2001. He lost 66 employees that day. He doesn't forget, nor does he choose to talk about it now. As he said to Sports Illustrated last year, "I would not be the fairest judge of Saudi involvement" in LIV because of the friends and colleagues who perished.
Dunne is all about finding solutions, and the PGA Tour was in need of answers.
PGA TOUR PLAYERS SAY THEY LEARNED OF MERGER ON TWITTER, LIV GOLFERS REJOICE: 'AWESOME DAY TODAY'
Monahan said reshaping this year's schedule with 13 "designated events" averaging $20 million in prize money forced the tour to dip into its reserves, and there were questions how long this could be sustained.
"Between our reserves, the legal fees, our underpin and our commitment to the DP World Tour and their legal fees, it's been significant," Monahan said.
Rory McIlroy, one of five player-directors for the PGA Tour board, wasn't aware of the deal until Dunne called him about 6:30 a.m. Tuesday — some four hours before it was to be announced — and walked him through the details.
"From what I gather, the tour felt they were in a real position of strength coming off of the back of the DP World Tour winning their legal case in London. It sort of weakened the other side's position," McIlroy said.
"And they went in there, and the way Jimmy described it: 'Rory, sometimes you got 280 over water, you just got to go for it.' And that's what they did."
Dunne said he has been in Monahan's ear about the tour at least talking to the Saudis — not Monahan at first, but Dunne or Herlihy, or perhaps someone from European tour (DP World Tour is the commercial name).
"After the Masters we decided — we had won a bunch of cases — let's find out what they're all about," Dunne said.
CLICK HERE TO GET THE FOX NEWS APP
In dealing with a group that's strategy was to outspend, the objective was to unite golf under one umbrella with Monahan in charge and end the litigation that was costing millions.
PIF's business includes LIV Golf, which is now under the umbrella of the new company — Monahan is the CEO, al-Rumayyan is the chairman, Dunne and Herlihy join them on the executive committee.
That's what led McIlroy to say on Wednesday, "Technically anyone that is involved with LIV now would answer to Jay. So the PGA Tour have control of everything."
It's a lot to digest. Monahan has to work through credibility issues after spending a year fighting a rival that now is his partner, and then dropping the news without warning.
"Circumstances change, and they've been changing a lot over the last couple years," Monahan said. And then it hit warp speed, starting with Dunne and Herlihy.